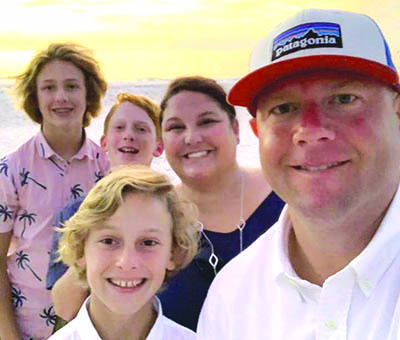 Big Fish Academy recently partnered with Farragut Presbyterian Church, 209 Jamestowne Blvd., to operate the church's preschool program starting in fall 2022.

"We are so excited to announce a wonderful partnership with Farragut Presbyterian Church and Big Fish Academy (preschool)," said Jeremy Deitch, co-owner of Big Fish Academy, Big Fish Summer Camp and Big Fish Afterschool with his wife, Molly Deitch.

"We love the community and we love that area," he added. "It's a big need in the area."

Deitch explained FPC currently has a preschool program, which BFA will be taking over in the fall.

"We actually used to partner with them and run summer camps there, probably about five or six years ago," he said. "We did that for about two or three years, so we kind of had a relationship with the staff, the pastor and the group there.

With the upcoming retirement of their current director, Beth Hallman, in May, "it kind of worked out for Big Fish Academy to come in, take over and partner there with the church," Jeremy Deitch said. "It's been about a year we've been working on the details.

"The Farragut Presbyterian program that is there now has a wonderful tradition in the community, loving on kids and families, and we just want to carry on that tradition with what we're doing," he added. Like FPC, "we are a faith-based program.

"We will have chapel every week. They'll be learning Bible verses."

The preschool will take children from infants to pre-kindergarten, up to age 5.

Big Fish Academy has another preschool location in Nashville, so Deitch said the FPC location would be an extension of that program.

For the preschool program at FPC, the partnership means more options.

"Right now, their program just runs Monday through Thursday, 9 a.m. to 2 p.m., and we'll be expanding that.

"We are going to offer two different options for parents," he added. "We're there Monday through Friday.

"We'll still have a 9 (a.m.) to 2 (p.m.) program for parents who just need that 9 to 2 preschool, but we'll also have a second option, where it's more all day, like a 7 a.m. to 5:45 to 6 p.m. style. Parents can kind of pick a five-day option, they can pick a three-day option, two-day option. We've tried to make it as flexible as possible for the parents. It's something that the current preschool there wasn't able to offer.

Seeking to "come in and help in that way for the community," Jeremy Deitch said it's because "every family is different in what they need and what they want for their kids."

He added children do not have to be members of Farragut Presbyterian to be enrolled in the program.

"It will be open to the public," Jeremy Deitch said, adding children currently enrolled in the program will be offered re-enrollment in February; followed by their younger siblings; and then enrollment will be offered to children in the community. "We have a registration inquiry link on our website," he added.

Parents can find out more about the Big Fish Academy's options on its website at campbigfish.org.

The Deitches started Camp Big Fish in 2009 as a summer camp in Chattanooga, where they live.

"It just kind of grew and expanded," Jeremy Deitch said. "We actually have six different summer camps, some are day camp locations. We have one in Nashville, three in Chattanooga and two in Knoxville."

All the camps are faith based, "kind of like a VBS and a day camp all put together (with) field trips and swimming for elementary-aged kids," he said. "It's 10 weeks of the summer — Monday through Friday.

"Our largest one is at Christian Academy of Knoxville," Jeremy Deitch added. "We've been partnering with them for about three years."

The Deitches also provide an after-school program at Knoxville Christian School, 11549 Snyder Road. The preschool portion of the business started last year in Nashville.