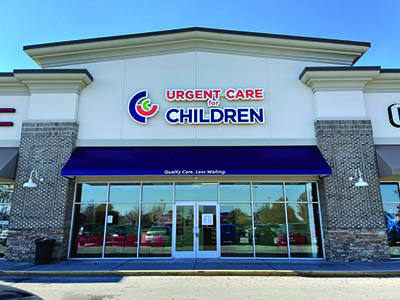 Urgent Care for Children, a Birmingham, Alabama-based pediatric urgent care provider, recently opened a clinic at 11146 Parkside Drive.

"This location serves as UC4C's seventh clinic opening in the year 2021, and its fifth location in the state of Tennessee as the company continues their rapid expansion across the Southeast," Urgent Care marketing specialist Beth Wright stated in a press release.

"(Turkey Creek) was a very attractive area for us," said Anna Peacock, UC4C vice president of marketing and communications. "We were drawn to the area by it being a community-focused environment, and we obviously really enjoy serving the commuity."

In looking at Knox County, she said it was not only a good idea for one clinic, "but we actually have plans for expanding our footprint within Knoxville in the future."

The clinic serves youth from newborn to age 21.

"We see them for everything from broken bones to flu," Peacock said. "We pride ourselves on providing quality care, convenient care and continuity of care for our families.

"In doing that, we are able to have an on-site lab, X-ray and pharmacy, which really sets us apart," she added. "We're open late and on holidays, when pharamacies aren't always open.

"We can do x-rays on site, getting a reading within one hour, by a pediatric radiologist."

The goal is "to serve as an affordable option between your primary care pediatrician and the emergency room," Peacock said but noted UC4C does not repl,ace the child's primary care physician, rather it works with that physician.

The staff also provides infectious disease testing, stitches, staples, Dermabond, laceration treatment and more.

"We also serve some adults in some capacity as well," Peacock said. "So when these parents come in and their child tests positive for flu, COVID or anything like that … we actually test the parents."

"We began our mission to provide quality care, continuity of care and convenient care for children during late nights and weekends in Birmingham, Alabama, four years ago," UC4C president and chief medical officer Dr. Allury Arora stated in a press release.

"We have since begun to make a strong impression on families in Tennessee.

Staffed with eight to 10 full-time team members, and part-time staff as well, the Turkey Creek clinic is the only location UC4C has in Knox County at this time.

It is headed by Dr. Fernando Urrego, the primary pediatrician. However, "we have several clinics in the area or state whose doctors float around to different locations," Peacock said.

"We staff everyone from the physicians to the pediatric nurse practitioner, medical assistants, nurses and first impressions specialists at our front desk," she added. "All of our staff have pediatric training prior to coming to work for us.

"When you come and see Urgent Care for Children, we have a fully trained pediatric staff who have not only gone through our rigorous training, but also have significant experience in the pediatric world to begin with. That's really important to us."

"Our team of pediatric physicians and staff are elated to bring our standard of care to the 'Heart of the Valley,'" Arora stated. "Urgent Care for Children creates a continuum of care by supplementing the hours of local pediatric offices and providing an affordable alternative to the emergency room. "

The clinic is open from 2 to 10 p.m., Monday through Friday, and from 8 a.m. to 6 p.m., Saturdays and Sundays.

"We are open 365 days a year, so that includes holidays," Peacock added.

For more information, visit www.childrensurgent.com or visit them on Facebook and Instagram.