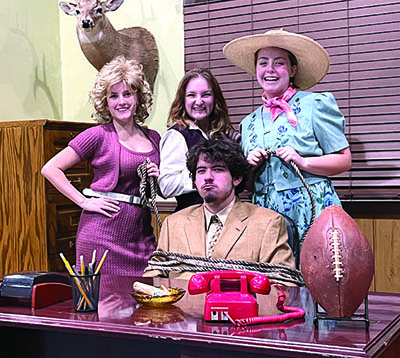 Farragut High School's theater and choral department students have joined forces to present the musical "9 to 5" from 7 p.m., Thursday, Dec. 9, through Saturday, Dec. 11, in FHS's Vickie B. Wells Auditorium.

"The music was done by Dolly Parton, so it has definite ties to East Tennessee, which is exciting," said Dr. Tony Wooley, musical theater and forensics drama teacher. "One of the characters is based on Dolly, and the musical is based on the 1980 movie of the same name.

"This is open to the public, finally, which is very exciting," Wooley added. "We would love for everyone to come see us. All the students are doing an incredible job.

"We are going to have full orchestration, directed by Elizabeth Gott, and all the pit orchestra are Farragut High School students. Everything the audience will be seeing — the performance will be high schoolers; the music will be high schoolers; (and) all of the tech and lighting will be high schoolers.

Moreover, "We are also working with our construction classes to have students build all the sets, so everything that is on the stage is student built," he said. "That is something that is important to me to have all of the production be student-led, and they're really doing a great job."

Tickets are $10 each, which can be purchased online in advance at https//knoxschools.schoolcashonline.com:or at the door the day of the production. For more information, call Wooley at 865-966-9775.

There are about 80 students involved in the production: 40 cast members, seven tech students and about 25 in the orchestra pit.

He chose the musical because "it has a lot of strong female roles, and I have lots of strong females," Wooley said.

"It is near and dear to our choir director, Mitchell Moore, who is co-directing this with me," he added. "He's in charge of music.

The top three female cast members are Meghan Tucker, who portrays Violet Newstead (the Lily Tomlin character in the film), Mary Claire Carter, who plays Doralee Rhodes (Dolly Parton's character), and Hannah Liske, who portrays Judy Bernly (Jane Fonda's character).

Luke Tresner portrays the boss, Franklin Hart Jr., who was played by Dabney Coleman in the film. Heading up the production are captains: Genevieve Kalosieh, marketing; Kelsie Orrico, light and sound; Kate Bruce, costume; Joseph Moorehead, set; Bryson Keasling, props; Alexandra Podhajsky, dance; Christian Graves, voice; Liske, acting; and Jasmyne Baker, secretary.