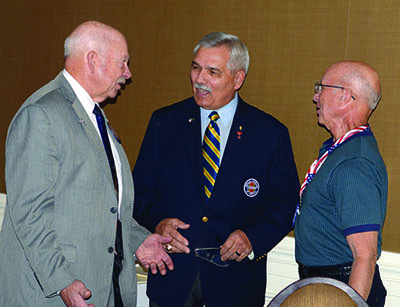 Rotary Club of Farragut members honored its fellow veterans of the U.S. military Wednesday, Nov. 10, the eve of Veterans Day, as they welcomed the Rev. Dr. Pat Polis, a Vietnam conflict veteran who received a Bronze Star and Medal of Valor.

Polis, a member of Vietnam Veterans of America Captain Bill Robinson Chapter 1078, urged RCF members to show their gratitude to all veterans now by participating in Wreaths Across America.

"It's been said that a veteran dies twice: when they draw their last breath and when their name is no longer remembered," he said. "Each year on the third Saturday in December, we place a wreath on veterans' graves to both remember and honor them, their service and their sacrifices and to educate our children on the value of freedom.

"It's called National Wreath Day, and it's sponsored by Wreaths Across America," added Polis, a Wreaths ambassador and member of the United Veterans Council.

This year, wreaths will be placed Saturday, Dec. 18.

"In case you didn't know, there are 18,000 veterans buried in Knox County — two state cemeteries, East Tennessee State Veterans Cemetery on Lyons View Pike and Knoxville National Cemetery in downtown Knoxville," he added. "There are 15,230 wreaths of the 18,000 needed, which means, 2,800 of our brothers and sisters remain uncovered.

"We have seen people take a wreath off of one grave — because there were none left — and put it on their family member's grave because they had none, and they wanted to honor their family member. We also heard of a little girl asking her father, 'Daddy, aren't there any wreaths for grandpa?'

"We don't ever want that to happen again."

Each wreath costs $15. You may donate to Wreaths Across America at knoxwreaths.org by clicking on the Vietnam Veterans of America Bill Robinson Chapter 1078 selection.

Polis also shared the procedure for laying to rest service members killed in action.

"The tradition of covering a deceased service member with a flag of the United States is a practice that started in the late 1700s ... Napoleonic wars. "

"Flags were originally used to cover the deceased on the battlefields so that both sides could identify more easily their own," he said. "Today, this tradition is a reminder the deceased's service to their country."

RCF past president Jim O'Brien, a retired Air Force colonel, met Polis, then senior pastor of Washington Pike United Methodist Church, in summer 2013.

"I'm pleased to say that in the eight years, I have come to know and respect this man, and I'm proud to call him a friend," O'Brien said of Polis, who spent 10 years in the U.S. Army and completed two tours in Vietnam as a company commander.

Members who are veterans and those with veteran family members were recognized and later given pins, stickers and other items that honored their service.