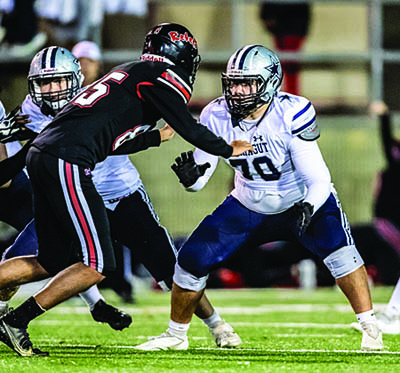 MARYVILLE — For a Farragut offense that scored 21 points on mighty, unbeaten Maryville — without a turnover — perhaps senior guard Corey Walker best represented the Admiral spirit in a near major upset of the Red Rebels.

"The umpire came to me tonight, in the fourth quarter, and said, 'Your No. 75 (Walker) hit one of their players the hardest I've seen in 10 years,'" said FHS head coach Eddie Courtney, whose team lost 28-21 in the TSSAA Class 6A state quarterfinals at MHS Friday night, Nov. 19. Farragut's season ends with a 6-7 record.

At 6-foot, 290 pounds, Walker also was a standout defensive tackle. "We haven't had a guy at our school for a lot of years who has played that many snaps on both sides of the ball and been that effective," Courtney said.

"We wanted it so much," Walker said. "… The last four games, we had to pick it up, we had to get better."

As for other top efforts, especially seniors, "Of course, Dawson (Moore's) leadership at quarterback," the coach said. "He's tough; he's taken a lot of hits the last few weeks and he keeps bouncing back."

Moore was 23-of-29 passing for 180 yards and two TDs.

Led by senior Trace Corum (among the school's all-time single-season leaders in receptions with 76 for 1,131 yards and 14 TDs), but with lots of help from senior Zach Keasling and sophomore Landis Davila (9-yard TD catch Friday) among others, "Our receiving corps just made a lot of improvement," Courtney said.

Corum had six grabs for 38 yards, including a 1-yard scoring catch, Friday.

"I think we came out and gave great effort," he said. "We had about three drives that lasted five minutes or more."

"We incorporated new routes and we blocked well in the run game, so altogether we played a good game," said Keasling (six catches for 47 yards. "We finished strong."

"And the run game, too," Courtney said, which was led by senior Schumann Xie (622 season yards, 4.6 per carry) and junior Elijah Gibbs (572 for 2021, 4.7 per carry). Gibbs scored from 2 yards out late.

"He had some tough runs," Courtney said of Gibbs, who also had six catches (45 yards).

"The offensive line made a lot of improvement the last five weeks," he added, also led by seniors Aiden Smith and Dennis Longmire.

Holding MHS (13-0) to only 306 total yards, "We knew it was going to be a hard game, but we knew we were going to scratch and claw to do whatever we could to get as close as possible to win," senior defensive back/linebacker Jerome Brekken said. "… I'm proud of our team's effort, I'm proud of how close we came."

In addition to recovering a fumble, sophomore linebacker Jack Alley, along with senior safety Sam Moses, led the Ads in solo stops with six each, including Moses' minus-11 sack.