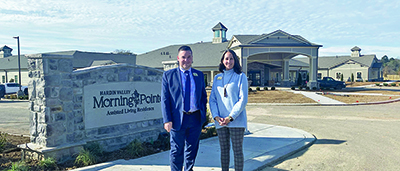 Morning Pointe of Hardin Valley is on schedule to open in January 2022 at 2449 Reagan Road.

While no firm date has been set for the opening, this will be the company's seventh Knox-area assisted living and Alzheimer's memory care community.

Will Brewer, vice president of corporate communications with Morning Pointe Assisted Living/Independent Healthcare Properties Inc., said he expects the campus to open around the first of the year.

"Morning Pointe is pleased to be expanding in the Knoxville market with our campus in Hardin Valley," Greg A. Vital, a MP founder along with Franklin Farrow, stated in a press release. "Between the economic impact of Oak Ridge, access to healthcare resources and the continued growth of Knoxville and the University of Tennessee, East Tennessee has certainly been a wonderful place to expand our footprint of providing the highest level of senior resident care for generations to come."

The initial phase on the 20-acre campus will feature single-story assisted living and a memory care community with 80 apartments.

Future phases will include an independent living community and dedicated Alzheimer's Memory Care facility.

"We want to be the next best thing to home for seniors," Brewer said. "We want to make sure that we have three hot meals served a day with our farm-to-table dining program.

"We partnered with local farmers, and we incorporate fresh food wherever we can," he added. "We have special life-enrichment programming with activities to keep their minds fresh."

Moreover, "We partner with all types of volunteer organizations, churches and schools," Brewer said. "We really particularly love what we call 'inter-generational programming.' That's where we connect school-aged children to come in and do special activities with our residents.

"We do have a 24-hour, seven-days-a-week nursing staff for medication management and physical therapy, " he added.

"We make sure the senior residents are cared for."

Among its features, the facility will have a library; gaming room; a private dining room, where residents can enjoy a private event with loved ones or sit in the dining room with everyone else; several landscaped courtyards and covered porches; and housekeeping and linen services.

Brewer said Morning Pointe of Hardin Valley will join a community also including facilities in Lenoir City and West Knoxville, and will be one of its 36 communities in Tennessee and four other Southeastern states.

He added the company, headquartered in Etowah (McMinn County), is preparing for its 25th anniversary next year.

For more information, visit online at morningpointe.com/hardin-valley/ or call 865-343-0081.