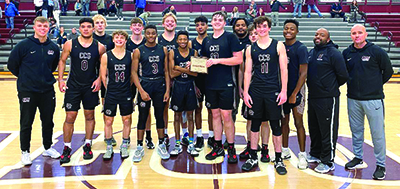 ALCOA — Led by senior point guard Jose Rodriguez's Most Valuable Player performance during the eight-team Alcoa Thanksgiving Classic — averaging 23 points, 10 rebounds, seven assists and four steals in the Lions' three-game sweep — Concord Christian School was crowned champions following a 61-59 win against Providence Academy in the title game Wednesday, Nov. 24. The Lions began this week with a 5-1 overall record.

A rebound basket in the closing seconds by senior Chase Morgan was the difference in the championship game, led by Rodriguez's 27 points followed by senior Juan Rodriquez with 16 and Morgan nine.

Rallying from a 12-point deficit against Providence to claim the crown, "Our guys played tough," CCS head coach Michael Wilkins said. "Going into the tournament we knew there was some tough teams."

The Lions drilled East Hamilton 71-54 in the semifinals Tuesday, Nov. 23.

Jose led the way offensively with 24 points, followed by junior Noah Gilder scoring 17 and Juan adding 14. "Noah Gilder hit some big buckets," Wilkins said.

Junior Jake Blankenship scored 12 and "slowed down their point guard to disrupt their offense."

Defensively against EHHS's 6-foot-10 Cade Pendleton, a Belmont signee, "Jose took the task of guarding Pendleton and held him to five points," Wilkins said.

Concord opened the tourney with a 71-64 win against Austin-East Monday, Nov. 22, as Juan tossed in 30 points followed by Jose with 17.