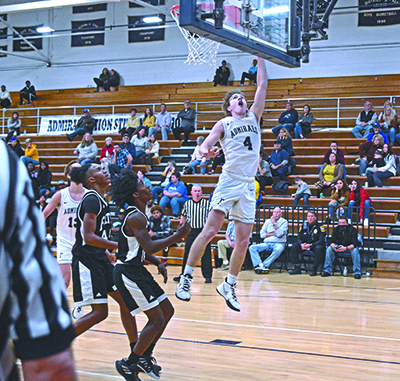 Maybe it was just a Thanksgiving Day hangover after a 4-0 start to the 2021-22 season, but Farragut varsity boys basketball suffered a three-overtime loss, by 1 point, to Morristown East, then a day later fell to perennial Class AA power Fulton on a last-second shot, 66-65.

And both games were at home in Lynn E. Sexton Gymnasium, as the Admirals finished fourth while hosting the eight-team Belle Building Group Farragut Thanksgiving Tournament. This tourney began Monday, Nov. 22, with a 59-51 Ads victory against Christian Academy of Knoxville despite a game-high 18 points from CAK senior forward Nathan Benton.

Defeated 86-85 in three-OTs by the eventual tourney champ Hurricanes Friday, Nov. 26, Farragut then lost to the Falcons in the consolation game Saturday, Nov. 27 — despite a game-high 39 points from Admirals senior guard Dillon Atwell, who scored a team-leading 25 versus MEHS.

"We're playing real good basketball teams, and it's just a matter of us executing better down the stretch," Farragut head coach Jon Higgins said. "We're there, we're giving ourselves chances. We've had a really good chance to win both of these games.

"For whatever reason, we're just not executing down the stretch," Higgins added.

"We've got to be better at closing games," Atwell said, adding about his big offensive games, "When they need me I'm willing to step up . ... I want to win so badly."

About Atwell, the coach said, "I thought he played extremely well. He battled hard. He took a hard fall (vs. Fulton), but came back in there and led us."

Despite going 1-2 last week, "I'm pleased with our fight," Higgins said. "... Our problems right now are very fixable."

Against Fulton, Ads senior guard Ryan Neal scored 11. Isaiah Smith added eight.

Versus MEHS, Smith scored 19, senior wing Elisha Brabson added 15 (ankle injury versus Fulton, status unknown at deadline), junior post Dallas Carbaugh 11 and Neal 10.