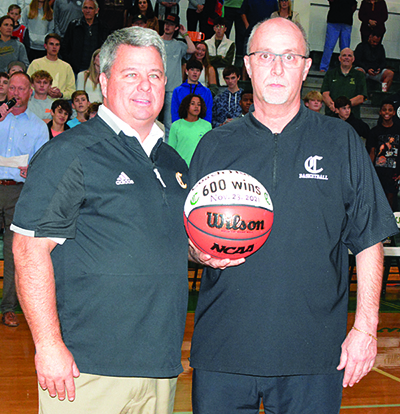 KNOXVILLE — It took one half of basketball for Mike Hutchens' Knoxville Catholic boys to realize something had to change: Bearden led the Irish 41-27 at the break.

It came down to getting more aggressive on both ends of the court.

The end result was holding the powerful Bulldogs to only 14 second-half points, while Catholic's two biggest offensive threats combined to score 48 points in a 64-55 Irish victory in a packed KCHS gym Tuesday night, Nov. 30.

"We were playing really selfish in the first half. I feel like we just came down, made one pass and shot," said star senior guard B.J. Edwards, a Tennessee Vols signee who scored 23.

"When we came into the locker room, coach (Hutchens) said 'no more threes — get to the basket,'" he added.

"We listened to him, locked up on defense and held them to 14 points in the second half."

"In the first half they had the energy, and I didn't feel like we quite had our focus. We were shooting quick — shooting one-pass threes," Hutchens said. "We weren't attacking the basket. We got behind and started pressing — that's the first time we've been behind this year.

"So at halftime we just said, 'Look guys, we're going to have to help in the paint, rotate better on defense and run our offense and attack the basket,'" he added, handing BHS its first loss. "We started coming up with steals and got our fast break going. And we rebounded better. We didn't box out anybody in the first half."

Irish guard Blue Cain, a junior, scored a game-high 25 points, as Catholic improved to 5-0. "We just kept believing in each other, kept playing hard," he said.

Freshman post Deondrea Lindsey had nine. "I thought he played real well in the second half," Hutchens said about the 6-foot-7 youngster.

Three Dawgs reached double figures in scoring: senior post Darian Bailey 17, senior guard Elijah Bredwood 15 and senior wing Hayden Moseley 12. "I feel like we let our guard down a little bit," Bredwood said about the second half.