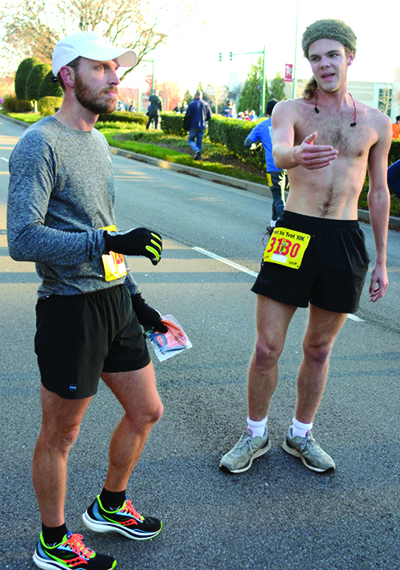 A Farragut runner was tops among 1,442 5k runners during annual Fleet Feet Turkey Trot, also including 10k, on Parkside Drive in and near Farragut Thanksgiving Day Nov. 25.

Eli Sharp, 21, finished first overall in 5k at 17.08.48. Top overall female was Eva Crawford, 32, of Knoxville (19:36.38).

(See top local 10k overall finishers in caption with the photo).

Other Farragut, Knoxville and Knox County 5k female champs were Masters, Tracey Eckerman; Grand Masters, Cheryl Neuberger; Senior Grand Masters, Cornelia Porter; 10-under, Kalista Maine; 11-14, Kenzie Lefler; 19-24, Giana Pellizzon; 35-39, Rebekah McQuade; 45-49, Chrissy Estes; 50-54, Melissa Hill; 60-64, Dedie Stansberry; 70-79, Donna Wuelzer.

Other male 5k local champs: Senior Grand Master, Christopher Martin; 10-Under, Benjamin Martin; 11-14, Andrew Cabaniss; 25-29, Sam Lariviere; 35-39, Ryan Wells; 55-59, Larry Prislovsky; 60-64, Mark Smith; and 65-69, Ernie Brooks.