'Bombs all around,' hero Durwood said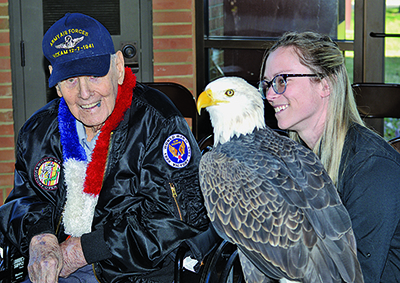 Among those present at Pearl Harbor Day of Remembrance program last week was 100-year-old Durwood Swanson, one of the last remaining World War II veterans who not only survived the Dec. 7, 1941 attack — but was a hero.

Saving the life of his cousin also stationed at Pearl Harbor, Durwood said the program "brings back a lot of memories."

Now living at Ben Atchley State Veteran's Home in Karns. Durwood joined American Legion Post 2 members along with dignitaries for Pearl Harbor Day of Remembrance program at Tennessee Veterans Cemetery, 5901 Lyons View Pike in Knoxville, Tuesday, Dec. 7.

Serving from 1939 to 1945, "I was there when the first bomb hit at Hickam Field," Durwood said. "That was the first casualty of the war.

"It was like all hell broke loose," the veteran added. "… I didn't have but two more weeks before I was going to be sent home.

"Someone woke me up (yelling) 'the Japs are attacking us.' There were bombs all around us."

Veteran Kyle Stooksbury, who served in 1958, remembered when he heard the news of the Pearl Harbor attack when he was 6. "That Sunday afternoon, we were sitting on the porch, and back then everyone was using radios," he said.

"The important thing of having this (program) today is to remember this is the 80th anniversary of the attack on Pearl Harbor and the terrific losses that we incurred; but with the attack it gave us determination to see through," said Jim Hackworth, program director with the American Legion.

"We've always said, as a veterans service organization, that when an individual's name is no longer spoken, he's forgotten," American Legion Cmdr. Mike Testerman said. "That's one thing I hope to never do — to forget our veterans — especially our Pearl Harbor veterans because it doesn't matter what branch of service or who, we want to make sure they're remembered."

Larry Sharp, coordinating the event, introduced Challenger, an eagle courtesy of Dollywood and American Eagle Foundation. The program also included a presentation of wreaths by South-Doyle High Army JROTC, music by Smoky Land Sound Chorus and speaker Tim Eichorn, a former Marine who shared a letter from another Pear Harbor survivor

Kevin Knowles, military director of East Tennessee Veterans Affairs, presented a proclamation from Tennessee Gov. Bill Lee. "Whereas, we are eternally grateful to the members of our nation's military, their families," he read.

Lloyd Pitney played "Amazing Grace" on the bagpipes; a rifle volley from East Tennessee Veterans Honor Guard followed before playing of Taps from Dan Maxwell.