BKW add-on to offer more dining space, smoother flow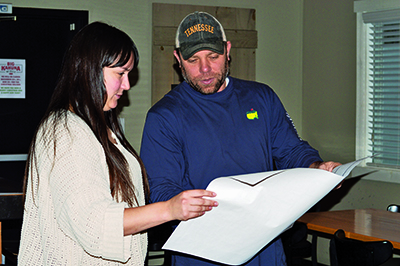 Big Kahuna Wings, 12828 Kingston Pike next to South Hobbs Road near Dixie Lee Junction, is expanding its building to accommodate more guests and improve its serving flow.

Matt Beeler, BKW president/founder, received permission on his expansion plan in November from Farragut Municipal Planning Commission to add about 460 square feet to his restaurant. He hopes construction will start before Christmas and be completed before the Super Bowl Feb. 13.

"We shall see," he added and laughed.

While Beeler conceded he is nervous about the expansion, he also is excited.

"People have been very loyal," Beeler said. "We're excited that it will help us continue to be in Farrragut for a very long time. I'm excited about everything happening down this way. I hope it continues."

He does not plan to close the restaurant during construction, but instead will work around it.

Beeler said he always has been trying to expand the restaurant. However, "we were able to put a plan together that still was within the parking requirements and allowed us to add the little bit of space that we needed to add.

"I've been trying to do that, pretty much, since we opened (in July 2014)," he added. "The way this was able to be done is we took advantage of the compact car parking spaces."

As for other concerns, "I wish I could add more aparking," Beeler said. "If they could ever level Hobbs Road with Kingston Pike, which would make it a much safer intersection, then adding additional parking would be so much easier and way less expensive."

He explained the back door, past the bar, will be opened up and replaced with a "server alley," going from the kitchen to the dining room. The back door would move into the dining room.

"So, it will make better flow for the servers," Beeler added.

"Ever since we've been open, (the servers) have to come behind the bar with the food to get (to the dining room), so we're just creating a little server path."

Another concern server alley would alleviate is the staff get busy near the front door with people waiting for a table or to-go orders. With the servers currently having to go from the bar into the people coming in to get to the dining room, "it all just clogs up (at the front)," Beeler said.

"So (the expansion) will make it much easier for everybody," he added. "We'll be able to move the host stand to a more prominent position, our waiting area (will be) expanded here for people … the new server alley will allow (the staff) not to come from behind the bar with food. They'll be able to come straight out into the dining area."

However, Beeler said the main change will be the expanded dining area.

"We'll be able to go from eight tables to 17 and also might not be so tight

with the tables," he added. "We'll be able to be a little

bit more open, which will be more enjoyable for everyone sitting down.

"We'll be able to handle

bigger parties we haven't been able to handle in the past

and bring in some more of

the elements we currently have in here."

Additionally, the expansion would allow him to redistribute the HVAC system to

make the dining room more comfortable.