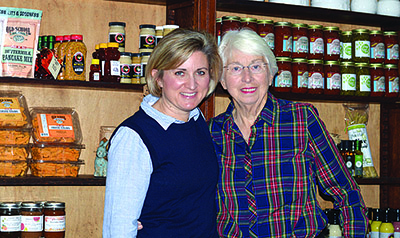 As Riverview Family Farm, 12131 Prater Lane off Choto Road, continues to reach out to the community, it adds another element to its repertoire — Riverview Family Farm Market.

The Williams family, who own Riverview Family (Working) Farm and event venue, held a grand opening Dec. 3-4.

"I'm excited, just thrilled," matriarch Janice Williams said about the market's opening. "I think it was coming in and just being able to develop something for people in the community to hang out."

"We love it," said Rachel Williams Samulski, daughter of the farm's founders, Janice and the late Lafayette Williams. "It's so nice to meet all the neighbors that are coming in.

"One gentleman said, 'Oh, my gosh, can I bring back my three neighbors? We just want to sit outside and have coffee,'" she added.

The market, in its country setting with rockers on the porch, provides lots of shelves and coolers inside filled with local products stocked with the Williamses' grass-fed and hand-grain-fed beef, along with Benton's bacon and cheeses from Sweetwater Valley Farms and Ocoee Creamery.

"We have pasta that's handmade in Sevierville, salsa that's made in Parrottsville, jam (such as Jammin' Jams) and honey sourced nearby.

"One of the gentlemen used to have hives here on the farm," Samulski said. "He's from Lenoir City, and another (honey vendor) is from Strawberry Plains."

They also sell chocolate from Nashville and Southern teas and coffee from Maryville — all situated beside unique gift items to complement farm products.

"We try to source items that are unique, not something you can just buy (anywhere)," Samulski said. "We just try to find things that were different."

The market came about as a vision for Lafayette Williams.

"We always wanted a store for my father to be able to sit and tell his stories," Samulski said. "He was a very good storyteller … he just knew a lot. He grew up here … so people enjoyed listening to his stories.

"Unfortunately, he passed away in September, so we didn't get that (market) open in time for him to sit and share his stories," she added.

Still, the Williamses fulfilled their vision of providing a place where the community's neighbors could come, buy Riverview beef, bring their families, sit outside on one of the rockers and enjoy ice cream.

Samulski said the market also "is a place for them to connect and share their stories, welcome new neighbors — just a place for everyone to enjoy."

"Just have a community, like an old-fashioned community," Williams said. "Let's not get to where we don't know our neighbors."

The market also allows the purchase of beef in smaller portions rather than a half or whole cattle. "Not everybody can commit to such a large purchase," Samulski noted. "They can come and purchase retail just a couple pounds … or a couple steaks."

The farm itself, where Black Angus beef cattle are raised, has been in the Williams family since 1801. While Byron Williams, Samulski's brother, operates beef production, Samulski operates public events.

"My children will be the seventh generation," she said.

In later years, the Williamses expanded the farm to create an events venue for everything from reunions to weddings, also holding an annual holiday sale in September and an Easter egg hunt.

"People enjoy coming out to the farm, and I think the reason is that touch — it's still so natural," said Samulski, adding the family recently purchased a lot from a neighbor and "turned it into our store."

Winter hours are from 10 a.m. to 6 p.m., Thursday and Friday, and from 10 a.m. to 4 p.m., Saturdays. The women expect extended hours in warmer months.

For more info, call Samulski at 865-603-9347.