Farragut boys fall in 5 Star Classic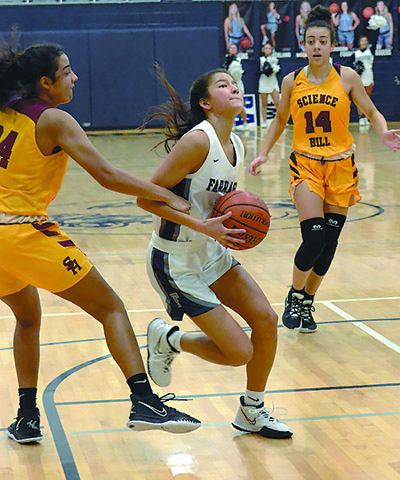 Missing two starters, a back-up point guard and a senior reserve player during last weekend's 5 Star Preps Classic at FHS, Farragut's girls suffered a predictable fate against Ensworth, one of the state's top girls programs.

However, the Lady Admirals bounced back well from a 64-39 loss Friday night, Dec. 17, as Avery "Ace" Strickland and Ashlyn Sheridan provided necessary leadership — still missing those four players —to not only help their girls defeat a solid Johnson City Science Hill team, but dominate the Lady Hilltoppers 61-45 Saturday afternoon, Dec. 20.

Strickland, a 6-foot-2 senior wing and West Virginia signee, scored a game-high 26 points Saturday, while Sheridan, a 5-foot-10 senior wing, was solid in multiple phases of the game while scoring nine.

"I was really proud of our girls that were healthy for this game," Lady Admirals head coach Jason Mayfield said.

"The leadership that Ace and Ashley gave us, and all of our role players were able to contribute in a big way."

Among the many freshman and sophomores to step up was Carly Vining, who reached double figures in scoring with 11. Mya Johnston added six, followed by Hannah Enderson with five and junior point Annalise Bishop scoring four.

Leading 31-24 at the half, the Lady Admirals improved to 9-4 overall by holding a 46-36 advantage after three frames before building as much as a 19-point lead during the final eight minutes.

Boys fall hard Friday

Trailing by just 12 points at halftime, 37-25, to the state's No. 1-ranked team — public and private combined according to MaxPreps — Brentwood Academy (8-0) poured it on in the final 16 minutes to beat the Farragut boys 77-35 Friday.

"Anytime you have 20-plus turnovers you're going to struggle," Ads skipper Jon Higgins said. FHS (8-4) was led by senior Ryan Neal's 16 points.