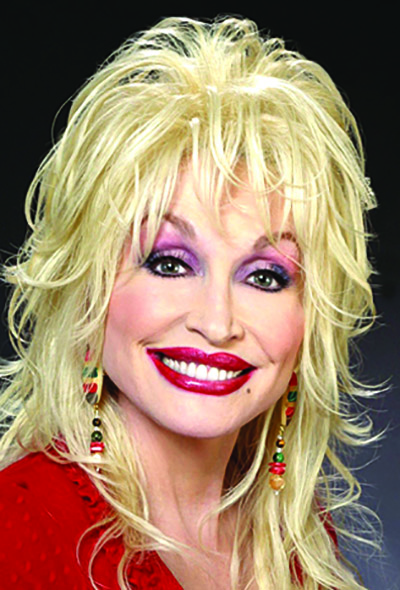 Students in Farragut High School's theater department, which recently presented the musical "9 to 5" based on the 1981 movie co-starring Dolly Parton, received a special video message from Parton herself just before dress rehearsal.

The students were on a dinner break the evening of Wednesday, Dec. 8 (shows were Thursday through Saturday, Dec. 9-11) when they got Parton's message.

Squeals and applause from the students resounded as the video began.

"Well, hey guys and dolls, it's Dolly," Parton said. "I understand you're doing my musical, '9 to 5.'

"Well, I'm honored and thank you for that," she added. "I had a great time writing all the music. I know you're just going to enjoy it as much as I enjoyed putting it together.

"So, go get it."

The students "were just thrilled," FHS theater teacher Dr. Tony Wooley said. "It was nice for them to see, first of all, so many people in the community come out to see the show and support what they do in the arts. But then, also, someone with such celebrity and such persona in the world to wish them luck.

"I think it meant a lot for them to know that they were seen and know they were heard, and what they do people outside these walls know about and care about," he added. "That really gave them the lift they needed to push through because it was a hard show.

"There were lots and lots and lots of moving pieces. (The students) care about (the production), but when they knew that other people cared about it, too, and cared about what they were doing, I think that was pretty special for them."

The message came about when Eugene Naughton Jr., vice president of Dollywood Parks Operations, came to watch their dress rehearsal, "and before we performed, he mentioned to the kids that someone wanted to wish them good luck and to 'break a leg,'" Wooley said. "Then, (Naughton) played a video that Dolly had recorded for them.

"... The fact it was Dolly, the person who wrote the music for the show, how often do you get that?" he added. "I think that it would have been cool for any musical writer to talk to a cast during a show, but there was an extra level — I mean, it's Dolly Parton and everybody knows Dolly.

"... I'm very appreciative of Eugene and Dolly for taking the time and caring for the kids because that's a memory that they will have the rest of their lives, and it's pretty special they got to have that."

Wooley had met Naughton at the start of the year, as Naughton is the husband of a colleague who was visiting while Wooley was holding an annual drama camp at FHS.

"I didn't know who he was, and someone introduced me," Wooley recalled. However, through a conversation, Naughton learned about the musical and set the wheels in motion for Parton's videoed message.

Before playing her message, Naughton introduced himself and told students there was a "message behind (their musical) and women in the workplace. I'm really excited about that.

"I want to give something back to you all as a cast party and welcome you all to Dollywood (an invitation extended for Saturday, Dec. 18) as a group," he added.

He also invited them to see the Chasing Rainbows Museum, which has memorabilia of Parton's life, including artifacts from the "9 to 5" movie.