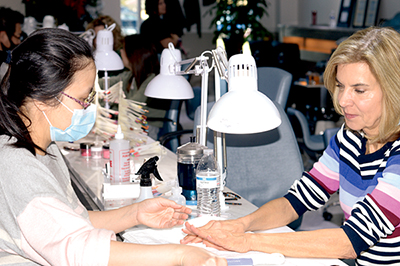 When Elite Nails needed a bigger space, it only had to move five doors down in Kroger Marketplace.

Elite Nails, which had been at 139 Brookawn St. for 11 years, moved to 157 Brooklawn St. on Oct. 15, according to Trish Nguyen, Elite Nails manager.

"It's a good place for a party," she added.

"We have plenty of chairs, and we have a lot of room in the back, so it's a good place for a party, for a wedding, rehearsal or a birthday party. We have food and drinks for people, families, if they want to come in for private (events)."

In addition to manicures and pedicures, Elite Nails offers waxing, from eyebrows to the bikini area and legs, and eyelash extensions.

The salon is open from 10 a.m. to 8 p.m., Monday through Thursday; from 9 a.m. to 7:30 p.m., Friday and Saturday; and from noon to 6 p.m., Sunday. For more info, call 865-675-1406.