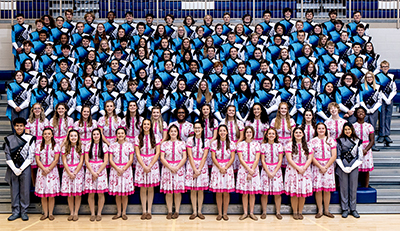 Hardin Valley Academy's Spirit of the Valley Marching Band enjoyed a stellar year as it racked up wins at this year's competitions.

Among its wins were finishing 38th in the nation in the Bands of America Grand National Championships, with a record-high score for HVA and a regional finalist in BO,A regional competition in Jacksonville, Alabama, on Oct. 16, and Johnson City on Oct. 30.

"Hardin Valley is the only Knox County school to have been named a regional finalist in Bands of America history – since the 1970s," HVA band director Alex Rector said.

"We scored an 81.35, which was the highest for Hardin Valley Academy at a BOA event (Nov. 11-13 at Lucas Oil Stadium in Indianapolis)," he added. "(The band members) competed against roughly 100 of the best bands in the country from all over the nation.

"This is the first time Hardin Valley has been named a regional finalist twice in the same season."

As a result, "We had a very successful competitive season for sure," Rector said. "We are very proud of all their accomplishments this year, and the competitive success is an enjoyable byproduct of the high standards they maintain in rehearsals.

"We don't often focus on competitive results, but it is definitely nice to see the students rewarded for their hard work," he added.

The band also won Grand Champion at Volunteer Classic at Heritage High School Oct.23, earning top honors in Best Overall Band, Percussion, Color Guard and Drum Majors, Rector said.

The Spirit of the Valley also competed in the Karns Marching Invitational Sept. 25, where it won first place in its Class, 6A, with the Best Overall Percussion and Color Guard.

Unlike FHS and Concord Christian School band officials in their stories in this issue, Rector said he was unable to release individual names in regard to this HVA band story.