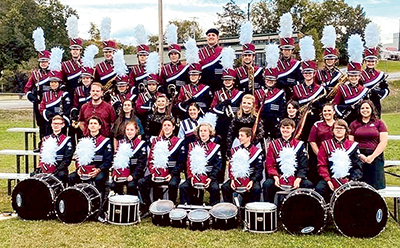 Concord Christian School's band program recently concluded a very successful season.

During four fall competitions, CCS Pride of the Den Marching Band won three first-place overall awards; first place awards for Color Guard and Drum Major; two first-place percussion awards; and a division A/AA Overall Band Champion Award.

The group, comprised of both CCS students along with students from Christian Academy of Knoxville, River's Edge Homeschool and other area Christian communities, performed the show "Rooftops," which included selections from "Fiddler on the Roof," "A Million Dreams" and "Step-in-Time."

"We are excited to partner with these groups, which otherwise don't have a marching band opportunity, to represent CCS by 'Christ Centered Service' in the community, and 'being His Instrument' in East Tennessee," band director Natalie Renfroe said.

The group finished out the season by honoring veterans in the downtown Knoxville American Legion Veteran's Day Parade Nov. 11, then performed its final concert Monday, Dec. 13, with Christmas music.

Marching Lions members include CCS high school students Maddox Atkins, James Bryant, Bryant Bieler, Elizabeth DeTrana, Jeremy Harris, Emma Hart, Connor Hutton, McKenna Korda, Jacob McClure, Nathan McClure, Owen McFall, Kara Lynn Noggle, Logan Plaag, Christian Quinlain, Nick Shine, Lincoln Shine and Drew Sloan.

CCS eighth-graders are Anna Hart, Joseph Martin, Jackson Krahl, Asia Thaller and Ian Young. Non-CCS students are Athena Lester, Lilly Mashburn, Jack McGee, Matthew Scruggins, Gracia Tu, Allison Llamm, Kiera Webb, Connor Finley, Jacob Sutton and Miriam Barbour.

Additionally, the CCS Middle School Program gave a private, casual performance for the Adult Special Needs ministry Helping Hands by partnering with First Baptist Concord Nov. 15 and 16, Renfroe added.