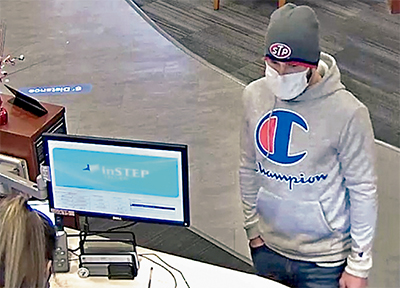 FBI Special Agents along with the Knox County Sheriff's Office units are searching for the suspect responsible for the robbery of First Horizon Bank, 11685 Parkside Drive in Farragut, Monday, Jan. 10 (submitted security cam photo, right).

"At approximately 2:15 p.m. … the suspect entered the bank and approached the tellers, handed them a note and demanded money," stated a report from Darrell DeBusk, public affairs officer with FBI's Knoxville Field Office.

"The tellers complied with the demands. It is believed the suspect fled the bank towards Campbell Station Road."

No further information was available at deadline Tuesday afternoon, Jan. 11.

"According to information developed in the investigation and witness statements, the suspect was described as a white male with a slender build. He may be in his late 20s to early 30s," the reported further stated. "He was wearing a gray shirt with the 'Champion' logo on the front, blue jeans, a gray toboggan with the 'STP' logo on the front and a white face mask."

Meanwhile, all four Farragut primary through high school public schools went on lockdown before 3 p.m., Monday.

If you know this person or have information on the robbery, call the FBI's Knoxville Field Office at 865-544-0751, KCSO at 865-215-2243 or your local law enforcement agency. An online tip can be submitted at: https://tips.fbi.gov.