Legos releases lend fun way to celebrate at midnight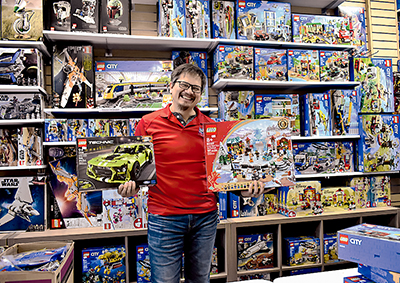 While typical New Year's Eve revelers waited with noisemakers and glasses of champagne to ring in the new year, dozens of Lego fans patiently waited outside BrickHouse Collectibles in West End Center to start 2022 with new projects in hand.

"Lego has two huge release dates every year — Jan. 1 and Aug. 1 — not sure about why those specific dates, but we thought we would open at midnight New Year's Eve to offer the new sets," BrickHouse Collectibles owner Pat Burnett explained about the special open house held from midnight to 2 a.m., Saturday, Jan. 1.

He had flooded social media with previews of specific sets in the days leading up to the event, showcasing new offerings from the Ninjago, City, Minecraft, Disney and Star Wars lines, as well as a Creator line model Shelby and brand-new Chinese New Year sets — but was still surprised at the number of Lego enthusiasts who flooded the store.

"We had about 60 transactions, and well over 100 people came," Burnett said. "It was awesome. Our New Year's Day was off the charts.

"It just shows the enthusiasm people have and their love for Lego," he added. "We had so many families come in together and buy sets; they went home to build together to ring in their New Year."

Farragut residents Thomas and Ginny Herrick and their children, Sam and Lily, were among those very families.

"Our whole family loves Lego, but my husband and son were the most excited to peruse the new sets," Ginny said. "Thomas had his eye on a new Technic Mustang to add to the other Lego cars on display at our shop (Thomas Tuning and Service). Sam, who is 12, has started collecting the Architecture skyline sets and was excited to get the new Singapore set. Lily, my 10-year-old animal lover, got a little parrot to build.

"Our whole family has embraced Lego," Thomas added. "It is something I have loved since I was a child, going back to when my grandfather bought me my first set. It is great to be able to support any local business, and it makes it even better that BrickHouse provides a wholesome activity all of us enjoy without a screen or electricity."

"It was a fun, family-friendly activity when so many NYE celebrations are geared toward adults," Ginny said. "We even ran into some other neighborhood kids while we were there.

"Also, we really appreciate having BrickHouse Collectibles in the community. We want to support Pat and help keep his shop thriving. As small business owners ourselves, we know how important it is to connect with the community. Pat did a great job of that with the NYE event, and we were glad to join in the fun," she added.

"As a bonus, we get to build some new creations at home."

At 51, Burnett himself is among the many adult Lego enthusiasts who continue to purchase and build sets regardless of age.

"I love Lego so much," he said. "It's one of the main reasons I opened my shop (in 2020), even during the pandemic. It just doesn't seem like work. Plus, I get to know the kids and their parents, and everyone becomes more like friends and family members."

While BrickHouse Collectibles has many "regular" customers, Burnett said business has been "absolutely unbelievable" over the last year.

"It seems we see new faces every day," he said, crediting word of mouth and social media as contributing factors, most notably Tik Tok and You Tube influencer "Mini Superheroes Today," who came to the store earlier this year.

"He did a video and posted it, and we have had so many people come in and say they found out about us that way," Burnett said.

Although Lego sets are about 80 percent of BrickHouse Collectibles' inventory, the speciality shop also offers comic books, action figures, Pokemon and many other unique collectible toys and items.

For more information, visit the shop at 163 West End Avenue or call 865-392-1019.