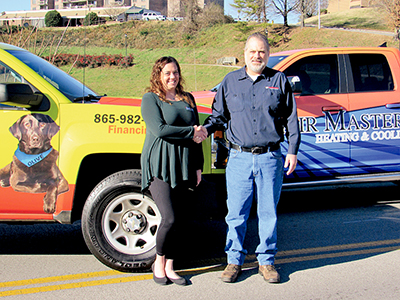 Air Masters Heating and Cooling, a home-based business along Buttermilk Road in Farragut, was sold last week to Russell & Abbott Heating and Cooling, 2124 E. Broadway, Maryville.

While Russell & Abbott marked its 44th anniversary in 2021, Air Masters was foundered in 2003 by owners Brian and Alisa Baker.

"My wife and I are retiring due to health issues," said Brian Baker, whose company provided residential heating and air conditioning services primarily in Blount, Knox and Loudon counties. "I wanted to be sure my heating and air customers continue to be well taken care of.

"We have worked hard to build a special relationship with our customers, so it was important to us to ensure they will be in good hands," he added. "The Russell & Abbott team members are experienced professionals, and they stand behind their service. My customers can trust and rely on them to do the right thing."

As the Bakers had worked out of their home, "we just moved all the operations into our business and merged the two together," Russell & Abbott CEO Chris Hurley said. "We are looking at expansion possibilities of where we may go and what we may do.

"We're certainly looking into (a location in Farragut)," he added.

"I want this to be a seamless transition," Russell & Abbott president Melissa Meck said.

"Air Masters customers can still use the same phone numbers they are used to, plus Brian will be available to us on a consultative basis should the need arise.

"Customers can expect that we are qualified to service any brand of equipment, and if a new system is needed, there are many options within our exclusive Onyx line of high- efficiency equipment with financing terms for almost anyone," she added.

"Russell & Abbott has won numerous awards, recognition and accolades," a company press release stated. "For the past several years, Russell & Abbott Heating and Cooling has been a Reader's Choice award winner.

"Russell & Abbott was named the 2015 Business of the Year, an award given by the Blount Chamber of Commerce," the release further stated.

"Both companies are dedicated to serving the community and providing excellent customer service."

Additionally, Russell & Abbott will offer Air Masters Heating and Cooling customers the opportunity to join its "Comfort Club."

"This membership program offers priority service, two seasonal system tune-ups and a professional system cleaning along with many other benefits," the release stated.

"A lot of attention has been given to the black dog that people see on the Russell & Abbott trucks and in our advertising," the release further stated.

"There are reasons for that dog. Think about the qualities of man's best friend: loyal, reliable, eager to please — that's how we do business," Meck said.

"A home is one of your biggest investments, and we take into account that each home has unique heating and cooling needs," Hurley said.

"We respect the privilege to be in your home, and we take the extra time and effort to determine what is best for your specific situation and present options before you commit to buying because our company is in the relationship for the long haul," he added.

Along with the Onyx equipment line, the Maryville company also provides ductless heating and air conditioning services, indoor air quality service and installation, customized residential and commercial heating and cooling maintenance, commercial heating and cooling installation and services, on-demand HVAC service and flexible financing.

Russell & Abbott Heating and Cooliing is open from 8 a.m. to 8 p.m., Monday through Saturday, and is closed on Sunday.

For more information, call 865-982-5133, visit www.RussellandAbbott.com or find it on Facebook.