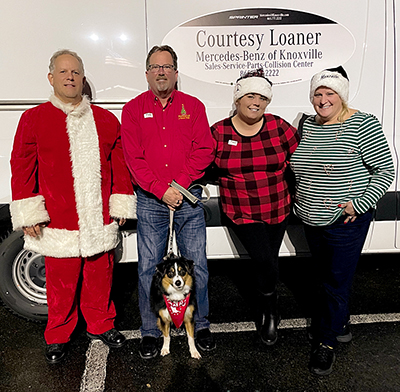 Send Senior Citizens Love volunteers were extra busy in the days leading up to Christmas, providing more than 1,100 gifts throughout East Tennessee to residents of nursing homes and assisted living communities who might otherwise have gone without.

Founder Ashley Lynch of Farragut, along with Knox County Sheriff's Office Capt. Brad Hall, Darryl Whitehead of Pinnacle at Turkey Creek and Karen Cooper of Mercedes Benz, Knoxville, began deliveries Saturday, Dec. 18.

It was the third year the foursome had worked together on providing Christmas gifts to area seniors, beginning under another organization before shifting over the last year to work through SSCL, which is a year-round senior-focused non-profit Lynch founded in memory and honor of her late grandparents.

"We began in Greeneville … we came back down and hit some Dandridge nursing homes, then Sevier County," Lynch said. "Our total up there was 270.

"In Greeneville, we were able to go room to room," she added. "The residents were so ecstatic. Brad dressed as Santa again and gave out presents."

"It is exciting to see the faces of those folks light up when we show up," Hall said.

"On the 21st, we did local deliveries (including) Summit View Farragut, Avenir Memory Care, Morning Pointe Westland, The Lantern Westland, Morning Pointe Clinton, River Oaks Place-Lenoir City and Catholic Charities," he added.

"It was a humbling, fantastic experience, and I cannot wait until next year," Lynch added.

Up next for SSCL will be a Valentine-focused event, Bears of Love.

For more information on SSCL, visit www.sendseniorcitizenslove.org.