FHS senior to compete in state Poetry event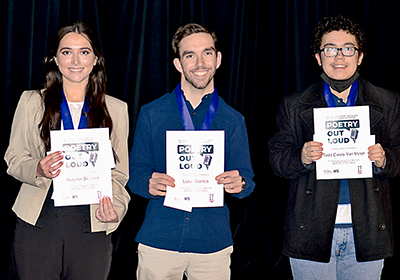 Farragut High School senior Luke Wanca took home the school championship win for his reading of "When I Heard the Learn'd Astronomer" by Walt Whitman and "Battle-Hymn of the Republic" by Julia Ward Howe during FHS's schoolwide 2021-22 Poetry Out Loud competition in the school's Ferguson Theater Wednesday, Jan. 26.

"I'm really excited," said the son of Cortney and Becky Wanca. "I've been working for this for a little bit now, and I'm really excited to be able to represent Farragut for this."

Receiving a $50 Amazon gift card and a medal, Wanca will compete in the state finals March 4-5 in Tennessee State Museum in Nashville.

He has been preparing for the schoolwide event since the class competition in December.

"I can't wait to see what it's like there," Wanca added about the state competition.

Second-place winner Todd Casey Van Meter, a senior, received a $30 Target gift card and a medal. He will compete in the state competition should Wanca be unable to fulfill his duties as champion.

Van Meter read "Tomorrow" by Dennis O'Driscoll and "Sweet Tooth" by Russell Edison for the schoolwide event.

Third-place winner was senior Autumn Skinner, who received a $20 gift card to Chick-fil-A and a medal. She read "Future Memories" by Mario Melendez and "Pity the Beautiful" by Dana Gioia. FHS Parent-Teacher-Student Organization supplied the prizes, of which the medals were donated by Sharps Plaque Masters.

Other contestants included sophomores Emily Kos, Will Patterson and Rahim Rasheed.

Winners of the state final will compete in the national finals, which awards $50,000 in prize money and school stipends, said Ivy Zhang, program emcee along with Kaleb Bedard.

"In 2005, the National Endowment for the Arts and the Poetry Foundation joined together to create Poetry Out Loud, a program that encourages the nation's high school students to learn about great poetry through exploration, memorization and recitation," said Ivy Zhang, the program's emcee along with Kaleb Bedard. "Together with state art agencies across the United States, Poetry Out Loud has reached each state, the U.S. Virgin Islands Puerto Rico and the District of Columbia.

Organizing Poetry Out Loud at FHS were committee members: Chairperson Dr. Cedelle Niles, Valarie Cagle, Dr. Charlene Lewis, Janie Harville, Holly Matthews, Dr. Tony Wooley, Angela Buckman, Erin Ashe, along with FHS administration.