House a total loss, but no serious injuries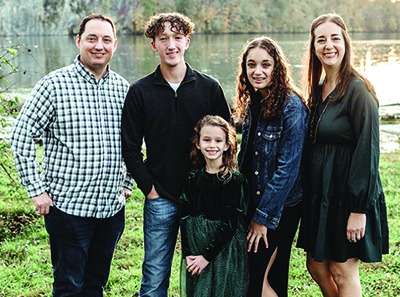 Melissa Cox's family home may have been destroyed by fire Sunday, Jan. 23, but she has maintained a constant mantra of gratitude every day since.

"We lost everything, but we are all alive," the Hardin Valley resident said late last week. "We have many things to take care of and replace, but we aren't planning any funerals."

That community outpouring began immediately, as soon as elder daughter, Makenlee, 14, realized their Hope Springs home was engulfed in flames and contacted Melissa and her father, Jon Cox, who had gone to the movies.

Makenlee, was babysitting youngest child Evie, 7, when the fire broke out, trapping the girls in Makenlee's bedroom. Her mother told her to contact 911, then began reaching out to neighbors hoping someone could quickly get to their house.

"One of our neighbors, who lives across the street and is known for leaving his phone on silent, saw my name come up and he answered," Melissa said, noting he was one of four neighbors ultimately credited with saving her daughters from the second-floor inferno.

"Makenlee had grabbed Evie's blanket, wrapped her up in it and told her to put her face into it, so she was spared, but Makenlee suffered from smoke inhalation," added Melissa, as her elder daughter was admitted to East Tennessee Children's Hospital for treatment and observation.

"That is just one more praise — all the fire safety education kids learn at school, along with everything we went through as foster parents, to know how to escape, really paid off," she added.

The Cox's son, Easton, had been playing golf with friends, but rushed home to find their house a total loss.

"A neighbor stepped up immediately and opened her home to us, and we have the whole upstairs," Melissa said. "It takes 'love thy neighbor' to a whole new level.

"Our friends and neighbors have loved us unconditionally, beyond what I can even comprehend," she added. "They have literally given us the shirts off their backs, and we are beyond grateful."

Melissa — who co-founded the foster care assistance organization Compassion Closet with Julie Gillian nearly a decade ago and fostered 16 children with Jon before adopting Evie — also is keenly aware of being on the receiving end of assistance for a change.

"It is really hard to be on the other side, and so hard to receive — but it has been so amazing to experience," she said.

The couple had only moved into their brand new custom built home exactly two years ago. They plan to rebuild.

"We have been told very little is salvagable," she added. "We don't know how long it will take, but that is our plan."

With the exception of some important documents and one of the children's "baby boxes," the family lost everything in the fire, But again, an immediate outreach for donations yielded just what they needed.

"Evie's teacher reached out and offered to put together a new backpack and all her supplies, right off the bat," Melissa said. "I have a friend, Mia Slager, who every day asks, 'What do you need? What is the goal today?' and she has helped us so much."

So far, the family does have clothing but is looking for items to help furnish the rental they were able to secure as of Tuesday, Feb. 1 — another praise in that it was available in today's red-hot real estate market and within the Hardin Valley school district.

Melissa has taken a leave of absence from her job as a social worker with Omni Visions as she focuses on her family's needs and working with the insurance company.

Mental health is top of mind, too. "This will not define us a family," she said. "You have to go through fire to be strengthened, and we will be stronger and we will persevere."

To donate to the family, contact Cox at Melissa@compassioncloset.com.