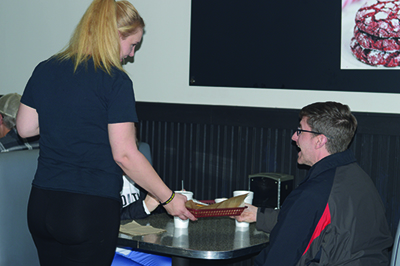 Kelly's Kitchen, 9355 Kingston Pike, nestled in a corner of Market Square, brings a "little family deli" with big tastes from around the country.

Oz Bass and partner Dian Trosclair proved Knox Countians do not have to travel to Philadelphia, Miami, New York or New Orleans to get a muffuletta, Cubano, Reuben or Philly cheesesteak.

"Being that we chose to build flavors from across the country, we didn't just choose a single discipline or culture," Bass said. Those include his top sellers, the New Orleans Muff-A-Lotta, Chicago Italian beef and their NYC Reuben, as well as KK's Philly cheesesteaks, Tampa Cubano, Texas Smoked Beef Brisket, Big Al's Meatball, Carnitas Torta, oven-roasted turkey, Italian ham or roast beef on a sub roll and American club and deluxe club.

For a flavor trip to the deep South, the New Orleans Muff-A-Lotta is stacked with Boars Head Meats' layer of thinly sliced ham, salami, mortadella, capicola, provolone and Swiss cheeses then topped with Kelly Kitchen's tangy house-made olive salad.

Bass said the sandwich is served on a panini-pressed Gambino's Bakery original New Orleans muffuletta loaf, which comes from the New Orleans bakery.

"I'm excited," Bass said about opening Kelly's Kitchen. "I enjoy Knoxville. I think the pace here is very friendly. The people enjoy our foods here – they enjoy good quality food – so it's a symbiotic relationship. I get to make it, they get to eat it.

"The cute thing is we're stuck in a corner over here," he added. "It's not easy to find, but people are finding us, so it's almost like we're a secret, and once you know the secret you come back."

Bass and Trosclair opened the deli in March 2021. Their venture came about from a chance meeting, as Trosclair already had a Lenny's Sub Shop in the Market Square location.

"She was selling and I was looking to buy," he said. "And, we kind of hit it off. We both were community minded, and we enjoyed serving others and making good food."

They also said there was a shortage of delis in Knoxville.

"Knoxville didn't seem to have one that was a simple deli, where you can go in and get a Reuben and a side, especially one that brines their own corned beef and roasted their own meats," Bass said.

"We decided we wanted to do something different, something that Knoxville didn't have," he added. "So we decided to roast our own turkey and roast our own beef and develop the specialty menu, as well as having basically a little family deli here."

Bass and his crew also brine the corned beef in-house.

"We use Boar's Head meats and cheeses," he added. "We want you to have a high-quality sandwich."

However, Bass pointed out Kelly's Kitchen is more than a sandwich shop.

"A sandwich shop is probably an easy way to simplify us, but all of our sandwiches can also be served as a salad," he said. "We'll serve them on a bed of lettuce. The fact that we brine and roast our own corned beef and pastrami – we slice it ourselves – I believe it elevates us more to a deli than a sandwich shop."

He has been in the food industry for more than 30 years, managing restaurants from fine dining to fast casual establishments.

Kelly's Kitchen is open from 11 a.m. to 7 p.m., Monday through Friday, and from 11 a.m. to 4 p.m., Saturdays and Sundays. For more information, call 865-500-2333 or visit online at knoxvillekitchen.com/. Carry-out and dine-in are available, as well as Door Dash and Ubereats.