Brother, sister partner to maintain legacy of service, kick it up a notch, with Farragut Golf and Games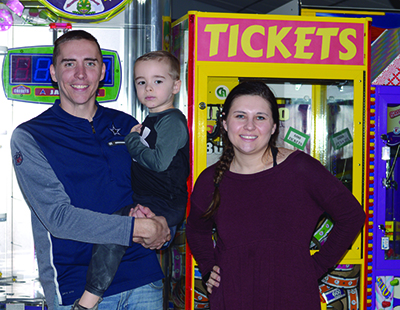 West Knox County brother and sister, Matthew Jones and Samantha Pratt bought the former Putt-Putt Golf & Games,164 West End Ave., next to West End Center, Nov. 23, 2021, and rebranded it to Farragut Golf and Games.

They plan to hold a grand opening event Saturday, March 5.

"It's been a long process to get to where it is now," Jones said. "You'll walk through the gates and the fun experience will start."

When Jones and Pratt learned David and Marva Vaughan decided to retire and sell the business at the end of the season in 2021, Jones said they saw a need to keep the miniature golf course operating.

"We've talked about building one in the past," Jones said. "We're from upstate New York, and there's one there … this popped up for sale, and this was exactly what we wanted to do, make it our own.

"There was a bunch of interested parties in purchasing this," Jones said. "They interviewed who they thought would keep going what they dreamed it would be, which was still serving the community … just being active in this community.

"After we sat down and talked with them, they got that vibe that we would continue that trend, just update it like we've been doing," he added.

The brother and sister chose to forego the Putt-Putt franchise, however.

"It's a franchise you have to pay a substantial amount of money for, and they don't really give you anything for it," Jones said. "We're just dropping the name.

"It's still a staple of the community and that's pretty much all that matters," he added. "It's been in business 31 years now."

Jones and Pratt are making other changes as well.

"We've changed 60 percent of the video games to make them current," he said.

The games also provide a variation in age, from kids to adults, Pratt said.

"The Vaughans had a great concept of business," Jones said. "We kind of took it to the next level."

That new level includes "homemade pizzas," a new bulk candy shop and a new Flavor Burst soft-serve ice cream machine.

"There's nine different flavors to choose from, and it integrates the flavors into the ice cream as it comes out," he said. "It's pretty amazing, and it's a huge, huge amenity when companies get it."

Families still will find such amenities as the birthday rooms, batting cages, three courses of mini golf and the arcade.

"We're just enhancing what's already here," Pratt said.

"We're going to be updating the miniature golf holes throughout the summer, as well, adding new obstacles and windmills to it," Jones said.

"There will be new prizes, but we're still going to do the parties, just change them up a little bit," she said.

Farragut Golf and Games will be staying open year-round, about 12 hours a day.

"On the weekends, we'll be staying open until midnight," Jones said. "In the summertime, we're going to be launching Cosmic Golf, which will be miniature golf under black lights.

"We'll have live music on Friday and Saturday nights, from sundown to midnight or 1 a.m.," he added.

And, "we definitely want to get active into the church communities, lock-ins and things like that.

"We're reaching out to churches in the area," he said. "If they bring in their Sunday bulletin, they'll save $3 on their miniature golf that day … and we're making it affordable, too. We've actually lowered some of the prices.

"We're keeping it family-friendly …" Jones said.

"And safe entertainment," Pratt added.

This is not Jones' and Pratt's first rodeo in going into business together.

"We actually own five companies together already," he said.

What is it like working with a sibling? "Easy," Pratt replied.

"It's not about the money, which is nice and is what most people argue about," Jones said. "I think we argue more about ideas than anything.

"She handles all the finances, and I do all the manual labor," he added and laughed.

They currently are booking birthday parties, and they will rent out the building for corporate and other events.

"We have two birthday party rooms we're going to keep active constantly," Jones said.

To pre-book an event,

call 865-675-5558. They currently are creating the business' web page.