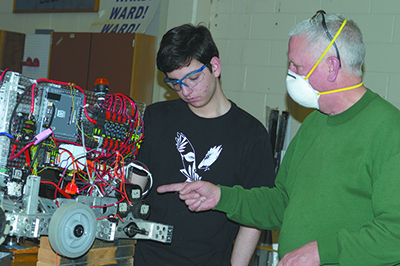 Farragut High School's 2022 Robotics Flagship 3140 team is gearing up to compete in this year's For Inspiration and Recognition of Science and Technology competitions starting in March.

"We're plugging away," teacher and team coach Brian Peters said. "It's a new season. We're kind of in a rebuilding mode, so we're trying desperately to get ready for the tournament in March.

"Ready or not, we'll be there," he added.

The 20 students now are in the build stage of constructing a practice field and erecting their robot, which will be expected to meet new challenges.

"We're in the process of assembling gear boxes for the drive train and building the frame," Peters said. "And, we're working on building the sub assemblies that do different tasks, such as picking up a ball."

This year, the team has the added challenge of having mostly new students, said Eric Manneschmidt, one of team's seven regular mentors.

"Right now, I'm working on a gear box that makes the robot turn the wheels," freshman Kaitlyn Kupferer said. This is Kupferer's first experience with robotics, which she learned about during her freshman tour.

"I saw they had a stand with a robot, and I thought it was really cool and it might be a good way to spend my time," she said.

Likewise, this is freshman Arslan Oquz's first time with robotics.

"I'm learning about the components of a robot and how to build a robot," said Oquz, whose interest is computer science.

Manneschmidt explained participants are in eighth grade on up. After their senior year, they cannot be involved with the team for a year, but can return as a mentor.

"Every year, we don't know what the competition will be," Manneschmidt said. "Early in January, FIRST releases the challenge to everyone globally via video stream.

"Then you have until the first tournament to prepare the robot," he added. "As soon as the challenge is released, all the teams start designing, building and programming their robots.

"You can't use past robots," he continued. "You have to build from scratch every year."

Flagship 3140 will compete in two regional tournaments this year on the road to the world championship. First, they head to Florida State University Campus for the Tallahassee Regional Tournament March 16 through March 19.

On April 2, the team will take part in the Smoky Mountain Robotics Regional in Thompson-Boling Arena.

"Right now they have 45 teams competing all that day," Manneschmidt said.

During a tournament, FHS' team will join an alliance of two other teams and compete in rounds to get a ranking.

"You never know who will be on your alliance," Manneschmidt said. After the ranking is established, the top seven teams will pick two teams below them to make up teams and go into the finals.

"Then you have the playoff to establish the winning alliance," he said.

"The top three teams are the winners of the tournament."

With this year's challenge, "you have a ball the size of a basketball and you have to shoot the ball into the goals (hoop)," he said.

One center goal is 9 feet high while the goal immediately below it is 4 feet high. Manneschmidt explained the robots have to pick up and shoot the balls, as well as play defense by preventing other robots' balls from shooting into the goal.

This year, there is another challenge, as there are four bars of different heights, and robots have to climb and hang from the bars.

"We hope to get to the mechanics that will climb the rungs on the field," Peters said.

The FIRST Robotics competition is for high school-aged students who self-design and construct semi-autonomous competitive machines.

Manneschmidt said Dean Kamen, an entrepreneur with many inventions started FIRST in the late 1990s.

"He saw students, in general, weren't entering into science- and technology-related occupations, preferring to follow sports and movie figures," Manneschmidt said. "So, he developed FIRST as a way of spurring the interest of students toward STEM."

"We're not using kids to build robots, we're using robots to build kids," Kamen stated in press releases.