FHS Comedy Improv Team entertaining March 4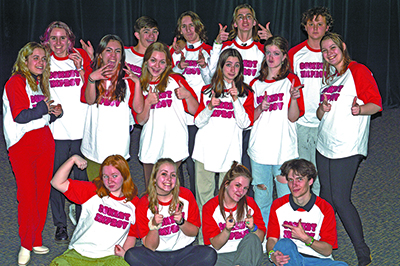 Some Farragut High School students are thinking fast on their feet, showing their dedication to improvisational comedy, as they entertain an audience.

FHS' Comedy Improv Team will perform their next show, 7 p.m., Friday, March 4, in the Lovada P. Ferguson Theatre, and their final show will be Friday, May 6.

Tickets are $5 at the door, and the show runs about 90 minutes.

Team coach Dillon Lambert explained the after-school extracurricular program is an extension of the school's theater program, but "we are independent of the usual shows and productions.

"Every semester, everyone has to audition to be part of this program and keep his or her roles," he said. "We are the longest-running high school improv troop in the state."

Lambert, who graduated from FHS in 2006, is a former cast member who came back to coach in 2016.

"It's entirely built on the coaches and the students," he said.

Lambert explained the troop's performances are in the style of the TV show, "Who's Line Is It Anyway?"

"We introduce different games and concepts," he said. "We put on productions with little to no preparation.

"The cool thing is we actually have a few different departments in the team where you have students just performing, students in the production side and we have students who actually facilitate the show," Lambert said. "I have one student who's the host and control all the aspects.

"He has to get the suggestion from the audience and tell the cast what the suggestion or scenario they are going to play, and they have to act it out."

"I'm hyped," Adam Hooyman, a sophomore, said about his role as host. "It's a relief to know I will be seen as good."

"Adam actually asked me all last summer if he could host, but normally it's a little bit based on seniority — whose been on the team long enough and who knows the games," Lambert said. "But it also can change right up to the last second."

"I also like to support other cast members through hosting," Hooyman said. "Hosting is a kind of role that influences the acting."

This semester, Lambert has 16 students in the troop, which fluctuates from 14 to 19 students who are all grade levels, from freshman to senior.

"It's so much fun after school being able to come here and just have fun with my friends," said senior Sophia Cook, who has been on the Improv Team since the beginning of her sophomore year. "I really just learned how to communicate better with people, just have a better understanding of humor and, later on in life, how to improv a conversation for jobs and everything like that.

"This is definitely my favorite team this year," Lambert said. "To be able to get back on stage and perform, despite everything else … is awesome. I think it's the best thing for their mental health.

"They're not just theater kids here," he said. "They all come from different other clubs. We have people who are athletes … we all come out of their way to do this because it's a breakfast club of sorts, people from all these different cliques. They're all working together to create some good comedy and having fun doing it."

The Comedy Improve Team concept was started in the late 1990s through the theater department.

"It's biggest year was when I was coming on … from 2003 to 2006," he said. "We would sell out every show."

The students have three shows a semester, and every show is completely different, Lambert said.

Their first performance was Friday, Feb. 4.

"Even the things done in one show will not carry over into the next," he added. As the audience comes into the theater, "we ask for a few suggestions" for scenarios the students will perform.