Hawks secure third seed in 4-4A tourney after sweep of MHS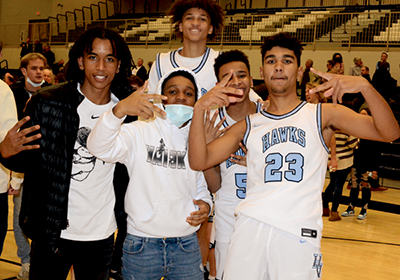 HARDIN VALLEY — Earning District 4-4A's third-seed entering this week's tournament at Heritage, Hardin Valley Academy shook off a slow start on Senior Night at HVA against Maryville.

Overcoming a 9-2 early deficit to lead 26-25 at halftime, the Hawks used a huge third quarter to win 72-60 Tuesday, Feb. 8, and record its 15th win of the season (15-9 overall, 5-5 in district).

"The difference in the game was that third quarter start, turning them over and knocking some shots down," Hawks head coach Shane Wells said.

"Attacking the basket, I think that was a big deal," he added. "I thought they all played well and I thought they were all into it together. We were really balanced, I think. Just really proud of them."

Four Hawks reached double figures in scoring, led by senior guard Jaelyn Pannell's 17. A pair of senior wings followed, with Hudson Stokes scoring 14 and Nick Liakonis 13.

"We'd already beat Maryville before, so just to come out and do the same," Pannell said.

"It was a great win," Stokes said. "Our goal all year was to be the three-seed and go to region."

The Red Rebels, suffering a rare down season, finished 2-8 in 4-4A league games.