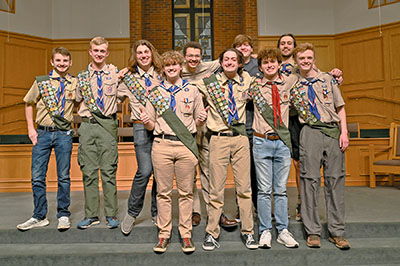 Nine Boy Scouts from one Patrol— Boy Scout Troop No. 444, aka "Shark Patrol" — have achieved the rank of Eagle Scout, while a fellow Shark has achieved the rank of Life Scout.

Eagle Scout rankings have been awarded to Max Robards, Evan Abbott, Tyler Case, Nathan Stewart, Brandon Duty, Noah Dietrich, Eli Williams, Matthew Newton and Ethan Thomasson.

Newton and Thomasson received their honors during a Tuesday, Feb. 15, 444 Court of Honor ceremony in Farragut Presbyteriand Church where Matthew Kilbey also attained the rank of Eagle Scout.

Jacob Engle previously attained the rank of Life Scout.

"Max, Tyler, Nathan, Brandon, Noah, Ethan and Jacob started out as 7-year old Cub Scouts in Pack 16 in 2010 in Concord United Methodist Church," said Kim Robards, assistant scoutmaster for the Troop, which now meets at FPC.

"Really is rare in Scouting to have this many (Eagle Scouts) in one Patrol."

"All 10 of these Scouts have spent the last seven years growing up together and becoming life-long friends," she added. "They are a great group of boys, and usually get together about once a week."

They will all graduate from high school this year.

"Troop 444 was established in 1991 in partnership with our charter organization, Farragut Presbyterian Church," Robards said. "The Troop started with just five Scouts and three leaders.

"Because a good program attracts more Scouts, the troop has increased its numbers to the point where we have more than 40 registered Scouts today, with more Webelos joining each February," she added.

"We currently have 156 Eagle Scouts from the past 30 years."

Stephen Stewart, Jason Case, and Chad Duty have been their leaders since 2010. Jack Abbott also is an adult leader.

Current Scoutmaster is Garrett Granroth.