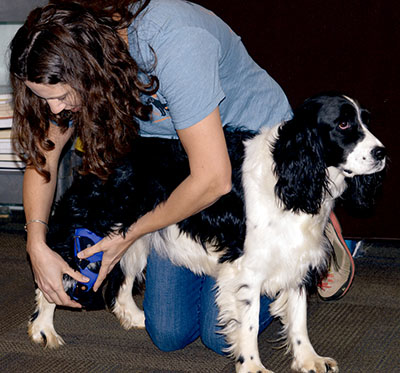 Abby Chandler, owner of Top Dog Bracing, in K-9 Center of East Tennessee, 11225 Threadstone Drive in West Knoxville, is back in business to help dogs suffering from knee injuries.

"It's fun working with dogs," she said. "Pet owners are great … If they're willing to go this extra mile for the dog, then they really care, and the dog's part of their family."

Chandler said probably 90 percent of the braces she makes are knee braces for ACL tears, or CCL in dogs.

"We're just an alternative to surgery, whenever a dog has a CCL injury," she added. "You can see with the brace's hard outer shell, it will last for years."

The brace is very similar to a brace design for humans, but with some modifications.

"We put strapping on the bottom – it goes right above the hock or ankle joint area," Chandler said. "That helps keep the brace from slipping down."

She also does braces for osteoarthritis and prosthetics for deformities, such as an amputation, but she does not do back braces.

Chandler has 17 years of experience in the human side of orthotics and prosthetics.

She started her career making prosthetics for humans, but "I've kind of come full circle with doing animals again as well."

Chandler started Top Dog Bracing in 2019, but when the COVID-19 pandemic hit, it led her to a "rocky road." Since then, the business has been "off and on." Recently, though, she is back on track with her business.

For a brace, visit online at topdogbracing.com or call 865-219-3280.