FMS student becomes youngest National Master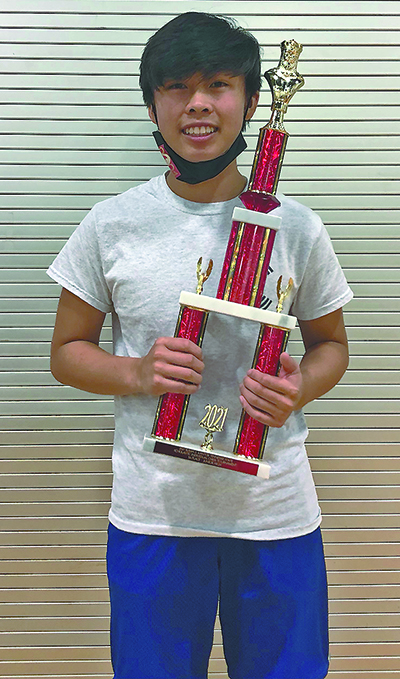 At just 14, James Nguyen of Farragut has achieved an elite chess rating

many fail to earn even as adults.

By winning an event held March 27 in Indianapolis, Indiana, the Farragut Middle School eighth grader reached the 2200 rating level — the threshold through the United States Chess Federation to qualify as a National Master.

He is the youngest current National Master in Tennessee, according to the U.S. Chess Federation, which has also ranked him No. 15 in the nation in the Age 14 category.

"I just like playing," James said last week from the Glen Abbey home he shares with his parents, David and Taylor Nguyen, and younger brother, John. "There are so many ways to play and endless possibilities.

"It's just so much fun."

His National Master status comes just a few months after he was crowned 2021 K-9 Tennessee state champion. Additionally, James has won at least $5,000 in prize money for his accomplishments.

The chess champion has played the game for several years, but didn't get serious about the sport until seventh grade.

"Last year, before I even started playing [for the season], I thought, 'I'm going

to be a National Master.' It

was my goal, and I thought I would achieve it by [later this] summer, but I got it way before that."

"He got pretty fast over the last year," Taylor said proudly.

James' commitment became a true family affair as David, Taylor and John have accompanied him consistently nearly every weekend to compete in chess tournaments around the country.

"Most weekends, we are rarely home," Taylor said. "We go to all of James' tournaments as a family. We enjoy spending time in the car together, just talking, then getting to visit all the cities, too."

James has competed in Philadelphia, Pennsylvania; Cincinnati and Columbus, Ohio; Charlotte, North Carolina; Birmingham, Alabama; Orlando, Florida; Washington, D.C.; and Atlanta, Georgia.

"It can really be nerve-wracking," James noted. "Some games can last as long as four hours or more."

The pressure hasn't diminished James' commitment to his grades, however, as he has maintained a straight-A average at FMS.

He said immediate future goals include focusing more on his schooling and playing more basketball.

James is also aiming for the title of International Master title in chess.