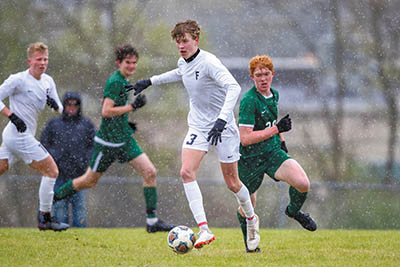 Cold — even snowy — weather didn't stop the annual Bearden Invitational soccer tournament last weekend at Bearden High School. 

Thursday, April 7, the host BHS Bulldogs beat Oak Ridge High School 4-0. BHS's Dylan Kolnick scored in the 10th minute, Lucas Nordin scored twice — in the 25th and 46th minutes — and Ethan Ford completed the scoring barely a minute later. 

"We created a lot of chances," Bulldogs coach Ryan Radcliffe said. "In terms of opening the tournament and getting a shutout, it was a pleasing result."

Bearden had its second shutout Friday, April 8, 3-0 over Gallatin. Nordin again scored twice — in the 27th and 60th minutes — followed by a goal by Hamid Djouadi in the 76th. 

"Gallatin very much played a defensive style," Radcliffe said. "We settled for some things … should have been able to open the scoring a little earlier, but we found a way to get the three that we needed."

Saturday, April 9, Bearden battled Hendersonville to a 2-2 tie. Yet again, Nordin, an all-state player, scored two — both — goals, this time at the 15th and 22nd minutes. "

Bearden now is 5-1-2; its lone loss is to Webb.  

Farragut had a loss and a tie in the event, losing Friday, April 8, to Hendersonville 5-1, and tying Greeneville 2-2 Saturday, April 9.

Against the Greene Devils, sophomore forward Brooks Burnette scored in the 15th minute, and junior defender Will Gallaher scored in the 20th. The Admirals now are 3-4-1. 

"We got to get a lot of playing time for a lot of people," Farragut coach Bradley Culbreth said. "It was a good learning experience."

Webb went 2-1 in the tournament, losing to Maryville 2-0 on Friday, then beating both West — 1-0 on Saturday — and Jefferson County 3-1 Sunday, April 10. 

Pierce Miller scored the single goal against West High. School in the 15th minute.  Garrett Webb, Clovis Igiranpza and Peter Hollenbach scored against Jefferson County.

"Maryville got the better of us," Spartans' coach Jared Ziegler said. "But our response was really, really important with our core group of guys, especially as we continue to get healthy and as we approach our region games.

"I think we feel good as a coaching staff and as a group," Ziegler said. "Whoever's number we call to come on the field they can give us some good minutes."

The Spartans are 5-1.