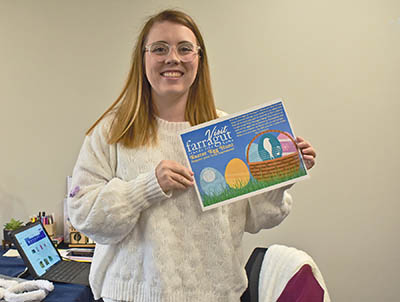 In an effort to encourage shopping in Farragut businesses, Visit Farragut is hosting an Easter egg-themed scavenger hunt through Monday, April 18.

According to a Town press release, eight participating Farragut businesses will have posters featuring unique Easter eggs, and each egg will hold a surprise in the form of a QR code link to a special offer. Customers who take a picture with the egg at each business will also be entered for a chance to win Visit Farragut swag.

Euphoric Cheese Shop, Sir Goony's Family Fun Center and the Embroidery Boutique are a few of the participating businesses.

This is the first year Visit Farragut has offered this event, which was suggested by Visit Farragut intern Talor Douglas.

"I'm a very big Disney World fan, and they do a [similar] Easter egg hunt, so I thought it would be a great idea for us to try," said Douglas. "We are also always working on developing relationships with our businesses, so we thought this would be a good way to do that, too."

Visit Farragut is posting sneak peeks and clues for participating businesses on

Instagram and Facebook. A list of all participating businesses will be posted on social media Friday, April 15, so participants can spend the weekend hunting eggs.

Participants are encouraged to follow Visit Farragut on social media for updates about the event, and get out, explore the town and find a new favorite shop or restaurant while hunting for eggs across Farragut.

For more information, contact Douglas at tdouglas@townoffarragut.org or call 865-218-3373.