Summer Moon Coffee to open its first Tennessee franchise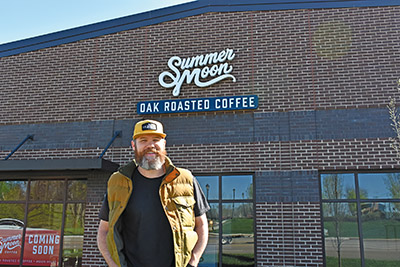 The first Tennessee franchise of Summer Moon Coffee is hosting its Grand Opening starting at 7 a.m. Saturday, April 30, in the heart of Farragut.

The shop, which features a dining room, a walk-up window and shared outdoor seating, is located at 104 N. Campbell Station Road, adjacent to 35 North, at the corner of Campbell Station Road and Kingston Pike.

According to a company press release, the first 50 customers can expect an exclusive "Summer Moon Swag Bag" while all guests will receive free oak-roasted coffee and Moon Milk samples while supplies last.

Summer Moon Farragut also will be offering a chance to win year's supply of coffee, along with exclusive discounts for all, according to the company press release.

Franchise owners, Farragut couple Eric and Heidi Davis, have worked with the Austin, Texas-based company every step of the way to bring the unique oak-roasted coffee and "legendary sweet cream" to the region.

The couple fell in love with Summer Moon Coffee when they lived in Austin over the last decade; and when they decided to move back to Tennessee (Heidi was born and raised in Knoxville while Eric grew up in the Tri-Cities area), they wanted to bring the Summer Moon experience with them.

"We knew it was what we wanted to do when we came back, and it is has truly been a labor of love for us," Eric said.

"We love that Summer Moon coffee is a family-run business that believes coffee brings us all together and is a vehicle for community," Heidi stated in the press release.

"One of the many things that drew us to Summer Moon coffee was the authentic take on bringing back the pioneering method of roasting in a hand-built brick roaster fueled by a wood fire. The premium oak-roasted coffee served with the signature sweet cream, known as Moon Milk, is an experience people will never forget.

"We didn't want to leave Texas without it, and we're so excited to share the unforgettable experience of Summer Moon Coffee with our community."

"We love the Knoxville area and the close knit community of Farragut and are excited to introduce our favorite coffee shop to Tennessee," Eric said.

"The ability to open next

to 35N and add an amazing coffee shop experience to the

food trucks, green space and great drinks also attracted us to our first location in East Tennessee."

With the Farragut opening, the number of Summer Moon Coffee shops currently stands at 36, with locations in Texas, Kansas City, Oklahoma City and Wisconsin, with plans to expand into additional regions in the future.

Regular hours for Summer Moon Farragut will be from 6 a.m. to 8 p.m. weekdays

and from 7 a.m. to 8 p.m. on weekends.