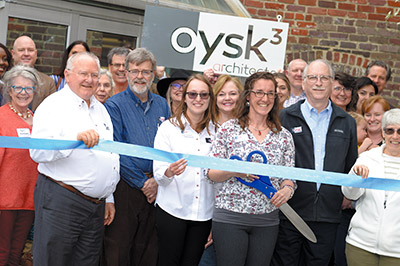 Farragut West Knox Chamber of Commerce recently helped its member, oysk3 Architects, celebrate its fifth anniversary with FWKCC at a ribbon cutting event, sponsored by the Chamber at the architectural firm's office in the Rogers Building, 1545 Western Ave., Knoxville, Tuesday, April 5.

"We are extra, extra fortunate, especially in this day and age, when we get to come back five years later and celebrate the milestone of that business still going strong, still in business, still successful and contributing to its community," FWKCC president/CEO Julie Blaylock said.

The past five years "have been great," said Cara Knapp, one of the firm's four owners. "It's been really exciting to watch this company form.

"In the last year, we hired three new people (and) doubled the footprint of our office," she said. "It's just the result of the five years as a whole of the success of this partnership."

While the members celebrated five years with the FWKCC, Jim Odle, a founding partner, pointed out, "This is actually our 27th year in business.

"This is kind of a repeat anniversary for us," said Odle, a principal architect with oysk3 Architects. "It's been a really good relationship (with the Chamber)."

The company's name is expected to change, however.

Knapp said the business started 27 years ago with Odle and Steve Young. Seth Schweitzer and Knapp joined the firm five years ago.

"(Odle and Young) needed a way to retire, so Seth Schweitzer and I are buying out Odle and Young," she said.

"We first started talking to them in 2014," Knapp added. "We started collaborating on projects to see if it would be a good blend of companies because Seth and I originally were sk3 … which Seth and I created and worked together for two years.

"I'm the youngest of the four, so I've learned a lot, professionally, as an architect, as a business owner," Knapp said. "It's rewarding and challenging all at the same time."

In 2017, the four made the union official, creating oysk3 after working together for a couple of years in the same office.

"Hopefully, in five years, we will have that (buy-out) transaction done," Knapp said.

For the time being, however, the firm remains oysk (Odle Young, Schweitzer and Knapp).

"It was a 10-year plan to buy them out, so we are celebrating five years into our partnership," she said. "We carried the tradition of the original company's birthday."

Knapp explained the "3" stands for consistent, reliable and responsive.

"That's how we want to work with everyone — with our clients, with our engineers — within our company," she said.

The firm serves restaurants, hotels, commercial buildings and other spaces — everything but schools and hospitals.

"A lot of our work comes from contractors, so we have a wonderful relationship client base of contractors we get to collaborate with," Knapp said.

In five years, she expects to see more 3-D and virtual designs, where clients can walk through their space virtually, as well as bigger projects.

"Right now, our industry is immensely blessed," Knapp said. "It still seems like people are doing commercial buildings … we're still building places to eat and sleep."

The firm's hours are from 8 a.m. to 5 p.m., Monday through Friday. For more information, visit oysk3architects.com or call 865-523-8200.