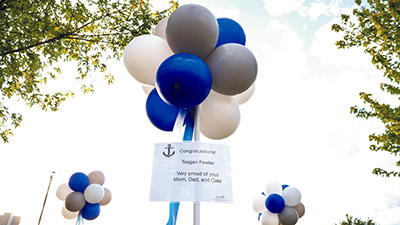 With help from Above the Rest Event Designs, Farragut High School's Senior Board is offering a chance to simultaneously congratulate a senior and help fundraise for the school for the second year in a row.

Parents, friends, family and businesses are invited to purchase a "Senior Spirit Ball Pole" to honor a graduating senior. It will be placed in the school senior parking lot Friday, May 13, which is "Anchors Away Senior Day," during which seniors will pick up their caps and gowns and yearbooks, turn in computers and pick up graduation tickets.

Each Senior Sprit Ball Pole is a mix of grey, white and blue balloons, personalized with a senior's name and congratulatory message.

Early "Get on Board" pricing is  $59.97 each when ordered by 10 p.m. April 26. The price increases to $69.97 April 27. "Don't Miss the Boat" pricing will increase to $79.97 on May 3.

Above the Rest, a 17-year-old local company, will give back 40 percent of all proceeds from this sale to FHS — potentially more than $13,000, which will be used to offset on-field graduation costs and provide assistance for those seniors who are in need, according to a company press release.

Last year, 200 were sold — giving back $5,400 to the school — and this year the goal is 300 or more.

"Our goal is to celebrate each graduating FHS senior with a Senior Spirit Ball," the release stated.

Above the Rest Balloons is handling taking the orders, collecting the money, personalizing the Spirit Balls, delivery and installation.

Business sponsorships are also available. Visit https://bit.ly/GetonBoardFHS2022 for more information or to order.