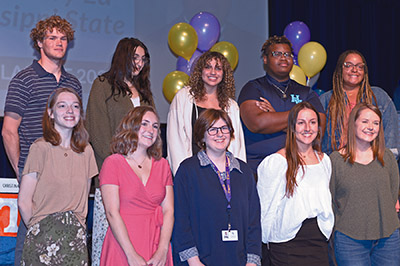 Ten Hardin Valley Academy seniors heading into the education field signed Letters of Intent to colleges during the school's ceremony for education students in the school's auditorium Monday, April 11.

This is the first time the school has had a signing event for Teaching as a Profession students, said Dana Sherrell, instructor for TAP pathway and Career and Technical Education Department chair of the mentor core team.

Addyson Beams will be attending East Tennessee State University as a secondary education English major; Christina Burbar, University of Tennessee as an English as a secondary language education major; Solomon Davis, Pellissippi State Community College with plans to subsequently transfer to Tennessee State University, majoring in secondary education, English or history; and Synergy Dougherty, Tennessee Tech University for an elementary education major.

Additionally, Hope Johnson signed her letter to attend Tennessee Tech as elementary education major; Amelia Lockett, UT, Chattanooga, as a secondary education English or history major; Sam Miller, UT, Knoxville, as a history major with a secondary education minor; Amaya Martin, Middle Tennessee State University, for a secondary education English major; Matilyn Moorman, Carson-Newman University for an elementary education major; and Brooke Taylor, C-NC for an elementary education major.

"We're here to honor these young folks," HVA principal Dr. Rob Speas said. "Here at Hardin Valley, we get every kid a chance to find a career pathway. We believe it's important for kids to understand where they're going and why they want to get there.

"When I came here three years ago, I was so excited we had a Teaching as a Profession pathway already in place," Speas said. As an educator, he added, "I believe teaching may be the most important profession we have in the United States today.

"Every kid who goes to public school needs great teachers in their classroom," he said. "The only way we have great teachers is when we have great talent going into the field, and I'm very proud of our young people today who made that decision to go into the teaching profession."

Beams said the teacher who inspired her most was Kate Russell.

Some of the students have completed three levels of TAP, such as Dougherty, Johnson and Miller, while students, such as Lockett, Martin and Taylor, completed all four levels of TAP.