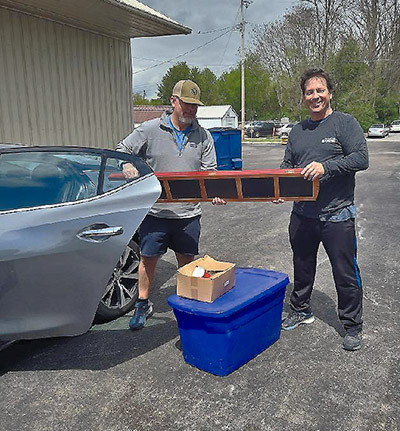 Concord United Methodist Church has a brand new mission outreach.

After several months of renovation and preparation, officials recently opened The Thrift Store at 8843 Kingston Pike, between Cedar Bluff and Walker Springs roads.

The new store sells clothing, household goods, furniture, collectibles, books, art and other items.

While the store has enjoyed a "soft opening" over the last couple of weeks," it will hold its official grand opening this Friday, April 22, and Saturday, April 23.

Knox County Mayor Glenn Jacobs and state Rep. Jason Zachary are scheduled to be on hand for The Thrift Store's ribbon cutting at 4 p.m., Friday, April 22.

As part of the grand opening, shoppers can enjoy a sidewalk sale with buy-one-get -one-free clothing and drinking glasses and mugs. Therealso will be free popcorn and a special treat from 3:30 to 5:30 p.m., Friday, April 22, with free ice cream from Eric Softee Serve Ice Cream Truck.

Opening the store has been a labor of love for the church and its members.

"We want to ensure that families in the community can afford to purchase the things they need while also providing a thrifter's paradise," said Jane Currin, Missions director at Concord United Methodist Church. "That's why items at The Thrift Store are marked with low prices."

Additionally, Currin said, "This is a service to the community, and any profits will be used to fund mission projects.

"We're also working with area school social workers to identify students and their families who have needs that we can help with items from the store."

The store is open from 10 a.m. to 6 p.m., Monday, Tuesday, Thursday and Friday; from 10 a.m. to 3 p.m., Wednesday and Saturday; and closed Sunday.

For more information about the store, contact Jane Currin, jcurrin@concordunited.org or call 865-288-7427.