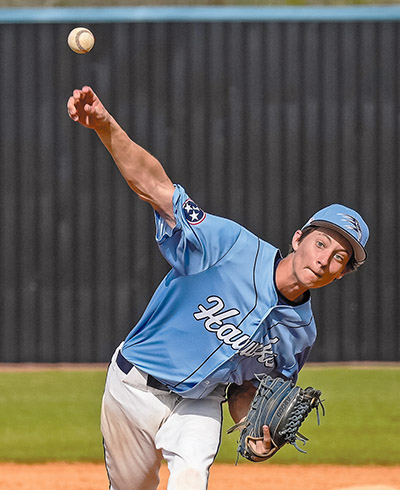 Hardin Valley Academy's baseball team had a promising beginning last week as the Hawks defeated Worthington Kilbourne High School of Columbus, Ohio, 8 to 1 in the first game of the 5 Star Preps/Scott Dean Memorial Tournament Friday, April 15. 

But, that would be the high point for the Hawks as they lost the final three games, 4 to 1 to Combine Academy of Charlotte, North Carolina, Friday, April 15, and 8 to 5 to Houston High School of Germantown and 9 to 7 to Walker Valley High School Saturday, April 16.

The three losses could, however, merit an asterisk. 

According to assistant coach David Dillon, HVA used none of its starting pitchers for any of the four games. 

"We're saving our pitching for district play this coming week," Dillon said, referring to Farragut and Maryville. "We were throwing six-seven-eight-nine (pitchers way down the list) and put some kids in to pitch who hadn't pitched before this year."

The Hawks dug a deep hole against the Walker Valley Mustangs Saturday, April 16, and trailed 8 to 1 after four and a half innings. 

But in the bottom of the inning, Austin King's bases-loaded single scored Carson Hoffmeister. Will Webb then singled, bringing in Ty Denton and Logan Ozias.  The score was now 8 to 4.

Walker Valley made it 9 to 4 in its half of the sixth; but in the bottom of the inning, Caleb Neely and Hoffmeister singled, putting runners on first and second. Denton then clubbed a three-run homer to left center, and it was 9 to 7. 

The Hawks were unable to mount a rally in their final at-bat. 

"We didn't compete at all," Dillon said. "We just made too many errors. It was like we were tired after four games in two days. I'm not making excuses. We just weren't mentally in the ballgame."

Against Worthington, Dillon saw his boys play near their best this year.

"We all came out and hit the ball well; we pitched well; we played well," he said. "(We) played really good defense, maybe the most complete game we've played all year long." 

According to Dillon, pitching was the difference against Houston.

"We played good against (them); they're the No. 1 team in the state," he said. "We were throwing our eight-nine-ten against them, and they were throwing their No. 1. We battled back against them.

"Same thing (against Combine)," Dillon said about falling behind early. "They have players from all over the country. We played well.

"It was a good weekend," he added. "We're growing; we're a young team; we're getting better. It's a process."



Photo courtesy Jeremy Wiggs

Hardin Valley Academy Hawks player Jacob Dillon throws the ball against Walker Valley, April 16. The Hawks lost 9-7.