Strange, ex-FHS lineman star, is 29th overall pick; to Patriots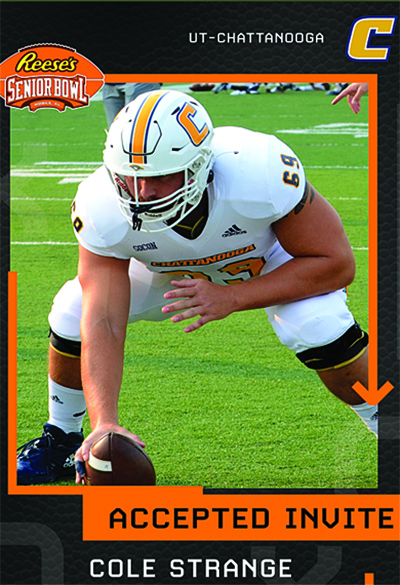 Among all the impressive talents of Cole Strange — the first Farragut High School football player ever selected in the First Round of the NFL Draft — his high school head coach, Eddie Courtney, narrowed it down.

"I think one of the biggest things is his work ethic. … I'll tell you what, he's worked extremely hard for this," Courtney said of Strange, a 2016 FHS graduate and All-State Admirals defensive end/outside linebacker/tight-end and star offensive lineman at UT-Chattanooga (see UTC promotional photo below), who was the 29th overall selection during the draft's First Round Thursday night, April 28.

He was chosen by perennial power New England and six-time Super Bowl champion head coach Bill Belichick.

"In the last five years, there were several times when he'd come home for a weekend, or an afternoon, and he'd always call me wanting in our weight room," the coach added. "And it wasn't for 30 minutes — he'd be in there an hour-and-a-half, two, even two-and-a-half hours.

"And most of the time he wanted to be in there by himself, he didn't want anybody interrupting his workout. That's how much dedication and commitment he has."

Testing himself in the toughest conditions, "He'd come out to this tuft (practice) field out here, and he'd do his running and conditioning — but he'd do it at 1 o'clock in the afternoon during a hot time of the day," Courtney said.

"He's a true blue-collar type of football player."

When it's gametime, "He's a physical football player who competes to the end," the coach said.

As for emotions, "Oh gosh, we are so excited for him, and certainly glad," Courtney said. "That young man deserves every bit of what he got last night as far as being drafted in the NFL — and it's a blessing (to happen) in the first round.

"And, he's going to a solid organization like the Patriots," the coach added. "It couldn't get any better than that."

At UT-Chattanooga, "He went down there as a defensive player, and they moved him to offensive line," Courtney said. "He took that defensive mentality, as aggressive as he is, and ended up becoming a starter on the offensive line and never looked back.

"Look what it did — it gave him a chance to play in the NFL because he made that move," the FHS coach added.

Beyond the physical part, "First of all, he's a very smart young man — he graduated with honors at Chattanooga," Courtney said of Strange. "Academics have always been important to him."

Attempts to reach Strange were unsuccessful.