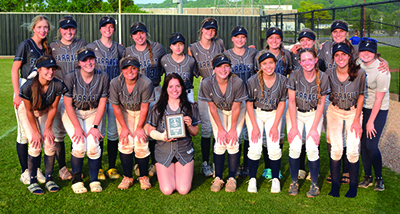 Since a 5-4 loss at Bearden April 13, head coach Nick Green's Farragut softball team has allowed just four runs while going 11-0, five in winning the annual Region II Challenge, a three-day tourney ending Saturday, April 30.

The Lady Admirals, District 4-4A champs once again at 9-1, enter post-season play with a 31-2-1 record after beating Grace Christian Academy 12-2 in five innings at FHS's Bellamy Field Monday evening, May 2.

Challenge highlights

About Farragut's pitching during the Challenge, carried by senior ace lefty Avery Flatford and up-and-coming sophomore righthander Emma MacTavish, "They both gave outstanding efforts all weekend," the Lady Admirals' skipper said. "They both faced some pretty good competition."

In fact, Green said MacTavish "is every bit as much a (No.) 1 (pitcher) at this point" as Flatford. "We can go either way."

Moreover, Saturday's 2-0 Challenge championship victory versus DeKalk County at Karns High School was MacTavish's "third tournament championship game victory that she's pitched this year," the coach added.

Overall, MacTavish's record is 16-1-1, while Flatford is 15-1.

Good defense also has played a role in the low run-allowance, especially against DeKalb: second baseman Rilee Kate Ragan's "exceptional, ranging catch" of a soft line drive into shallow left field saved two runs in the first inning.

Centerfielder Sarah Livingston ran into the center field wall but held on to a deep fly ball in the top of the fourth. "Otherwise, that's a leadoff double for them," Green said.

First baseman Hailey Nichols made a nice backhand stop of a hard-hit grounder to record an out in the second inning. "Hailey made a great play," the coach said. "She got to play a lot of first (base) this weekend."

The Lady Ads committed no errors in the championship game.

Farragut's Challenge games featured home wins against Kingston, 6-1 Thursday, April 28; 1-0 versus Union County Friday, April 29; 5-0 against Tazewell, Virginia, Saturday morning; and 3-1 versus Chattanooga Central Saturday afternoon. Autumn Caywood had at least one hit or one RBI in each Challenge game.

Overall during the Challenge, "It was a good showing," Green said. "We matched up with teams that were going to challenge us. We picked Union County for a reason; we picked Tazwell because they had really good pitchers.

"Ultimately, like I told the kids, we're trying to get ourselves ready for the postseason.

Farragut 12 Grace Christian 2

Offensively, FHS scored four in the first inning and six in the second, led by two hits each from Addison Pressley, Nichols, Lauren Brakovec and Emily Musco (two RBI), while Ava Guzowski added a two-RBI double and Vivian Boles an RBI double. Flatford pitched the win (three innings, 0 earned runs, eight strikeouts, one walk), while MacTavish relieved (two innings, five hits, one earned run, no walks).