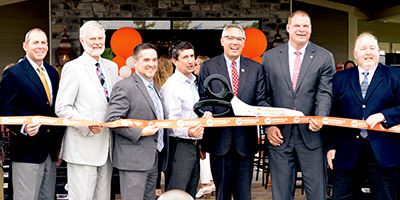 Morning Pointe of Hardin Valley welcomed Knox County and state dignitaries and the community to its dedication and grand opening, highlighted by a ribbon-cutting, Thursday, May 5.

Morning Pointe Senior Living's newest facility at 2449 Reagan Road, MPHV celebrated with music from Hardin Valley Academy Chamber Choir, tours and lots of food.

"The folks, the businesses around have been great neighbors," MPHV executive director Ben Stiefel said.

"They've just been very supportive, and we're very excited to help them with any needs they got, offering assisted living and memory care.

"We just look forward to bringing more residents into our community and helping them in a time of need where they need help with caregiving and socialization," he added.

"It's another exciting opportunity to serve the seniors of Knox County," said Franklin Farrow, CEO who co-owns MPSL with Greg A. Vital, president.

"… Hardin Valley is a booming area of the county," he added. "We were able to find this strategic piece of property, and it's going to be one of those things where we're going to have the tranquility of the area around us but near the hustle and bustle of medical support services, shopping — a lot of activities for our residents to enjoy — so we're thrilled that we can be here and hope to have a launching soon of our next phase and see it complete as well."

"We welcome our neighbors," the Rev. Rodney Holloman, Hardin Valley Church pastor, said.

"We told Ben and Franklin we want to be good neighbors … We live in a community that emphasizes that."

Farrow said the current facility is the first of what they hope will be three phases.

The new assisted living and Alzheimer's memory care community is the initial phase on a 20-acre campus featuring 77 rooms — 55 for assisted living and 20 for memory care — nestled in a one-level layout. It also features a library, exercise room, sitting nooks "offering solace and encouraging socialization," a press release stated. "Beautiful, secured courtyards showcase walking paths, sitting areas and gathering areas to enjoy the outdoors."

The Hardin Valley community's opening comes about as Morning Pointe Senior Living marks an anniversary.

"Twenty-five years ago, Franklin and I embarked on a mission to create an assisted living company that made a difference," Vital said. "It wrapped health care and hospitality together.

"I'm proud to call East Tennessee home," he added. "And it's been exciting, over the last 25 years, to develop the (36) facilities we manage in five states, but it's always great to come to East Tennessee."

University of Tennessee Dragoon Color Guard performed Posting of the Colors.