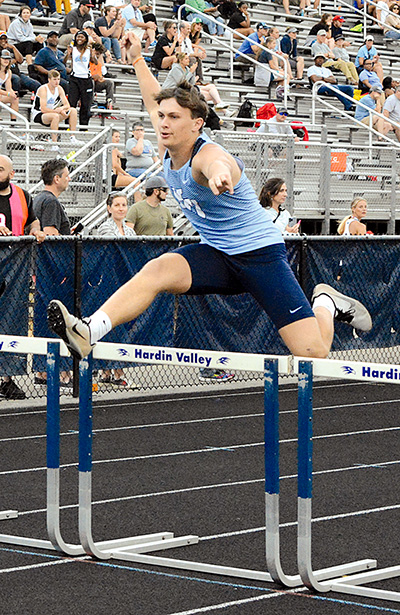 HARDIN VALLEY — Well beyond doubling its point total victory margin, Hardin Valley Academy's boys claimed another KIL track & field championship as event host Monday and Tuesday, May 2-3.

The Hawks won eight events in compiling 228 points, well ahead of second-place Farragut (88) and third place Webb School (70).

Grabbing four event titles, the HVA girls made it a school sweep, also earning a KIL crown May 2-3 with 164.5 points.

About his top performers, girls and boys, "They all did really, really well," Hardin Valley head coach Bryan Brown said. "It was about what I thought we would do."

In fact, the top three teams were the same for both genders, as girls runner-up Farragut totaled 112 followed by Webb with 67.5.

"We are most definitely keeping the program going into the right direction," Admirals head coach Chris Allison said. "This year we lost a couple of key athletes to season-ending injuries, but to take second at KIL in boys/girls team competitions for the second straight year still shows we have some depth to fill in when we need it."

Girls champions

Triple jump champ was HVA senior Sidnee Stanton (38 feet-05.00). Also a Lady Hawks field event champ was sophomore Gracie Waite in shot put (108-11.00). As for relays, the Lady Hawks foursome won the 4 X 100-meter (49.07) and the 4 X 800 (9:51.87).

Farragut's 4 X 400 foursome of Avery Strickland, Lexi Foley, Sarah Lynn and Parker Willis were champions (4.06.38).

"Normally we rely on our 4 x 800 girls every year, but this year we have a very competitive 4 x 400 squad making an impact," Allison said.

Webb sophomore Anna Graves doubled up on top distance run finishes, capturing the 800-meter crown (2:17.96) and the 3200 (11:19.98). A pair of Lady Spartan eighth-graders made quite an impression in the 1600 run, led by Jazzlyn Garmer's first-place performance (5:08.28). Long jump champ was freshman Lennox Langham of Webb (18-01.75).

Bearden junior Laila Rudolph won the 100-dash (12.16).

Boys champions

During the KIL running events, HVA senior Ben Smith dominated the 100- (10.89) and 200- (21.82) dashes as a double champ.

But senior Ethan Flatford of CAK was a triple champ: in the hurdles, taking first place in the 110 (15.28) and 300 (40.13), in addition to also winning pole vault (14-06.00).

Knoxville Catholic freshman Keegan Smith grabbed first place in the 800 (1:56.64) and 3200 (9:21.67).

Hawks senior Kaden Keller captured first in the 1600 (4:18.45), while HVA teammate Austin Rome, also a senior, was champ in the 400-dash (49.38).

Hardin Valley also raced to first place in the 4 X 400 (3:23.13) and 4 X 800 relays (8:10.82).

HVA senior Evan Maples swept the throwing events, winning discus (152-07.00) and shot put (48-02.50).

Hawks junior Gavin English was tops in long jump (22-feet-02.00).

Field champs also included Bearden junior Cayden Douglas in the high jump (6-02.00).