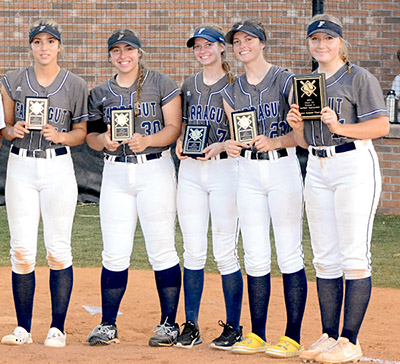 MARYVILLE — With five home runs in her first five District 4-4A Tournament games — 10 of 15 at the plate — Farragut junior shortstop Ava Guzowski, tourney MVP, led the Lady Admirals back after a surprising early round loss to Maryville.

"Ava was tearing it up all week," said FHS head coach Nick Green, whose girls battled back to reach the championship game, then beat Heritage 7-3 — led by some huge hits from the bottom of the order — to claim the tourney crown Thursday evening, May 12, at the John Sevier Elementary School/MHS field.

Guzowski was joined on the All-Tournament team by fellow Lady Ads Emily Musco (senior second baseman), Lauren Brakovec (senior designated player and league MVP with three home runs in four games), Emma MacTavish (sophomore pitcher) and Sarah Livingston (senior centerfielder).

But big production came from hitters seven through nine in the title game. Hailey Nichols smacked a solo homer and scored two runs, while Laney Shrader doubled and also scored two runs. Vivian Boles added an RBI single and scored a run. "Seven, eight, nine came through right there," Green said.

Addison Pressley and Autumn Caywood also added RBI singles. Livingston's two hits featured a double and an RBI single. "Livingston always has quality at-bats," Green said. "... Autumn came up with some pretty good at-bats, too."

Farragut blanked 3-4A tourney runner-up Karns 5-0 in a do-or-die Region 2-4A semifinals Monday, May 16, at FHS's Bellamy Field to secure a sectional game berth Friday, May 20. That puts the Lady Ads (37-3-1) just one win from another TSSAA Class AAA state tournament (May 24-27).