Putting a happy face on ice cream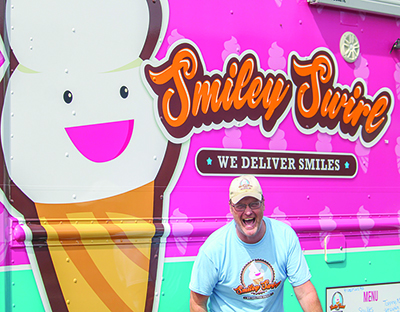 Farragut couple Tonya and Eric Broyles have rebranded their iconic pink ice cream truck and are looking ahead at franchise opportunities.

Formerly known as Softee-Serve, the 5-year-old company is now Smiley Swirl.

"I believe the new name better reflects our brand offering," Tonya said. "Ice cream, especially soft-serve ice cream, makes everyone smile. The new name is a happier version and better describes our product."

The decision to franchise Smiley Swirl "was not easy," a company press release stated. "Softee-Serve has been successful in the Knoxville, Tennessee market by catering events for up to 1,200 people at churches, businesses, weddings, schools, festivals and more.

"Due to their successful track record, it didn't take long for Softee-Serve to receive calls from outlying counties and states," the release continued. "Ultimately, the decision needed to be made: add a new truck to the fleet or franchise, and the couple, along with their son, Kase, decided to franchise their 'Big Pink Truck.'"

"For about the same price as purchasing a new truck, and possibly spreading ourselves too thin, we chose to franchise, and this allows us to share our American Dream with others," Tonya said.

Smiley Swirl teamed up with the Franchise Innovation Group to build their franchise system. "The Smiley Swirl brand is a great opportunity for someone looking to leave the corporate world and wants to own their own business," said John Batcheller, Franchise Innovation Group president and CEO. "A franchise owner will have the opportunity to control their schedule, build a business as large as they want and make a difference in people's days."

Perhaps others will realize their own dreams, just as Tonya has been able to do.

"It started with TCBY," she said. "I worked there as a high school student and loved it. I have always loved ice cream and I always knew, in the back of my mind, that I wanted to do my own ice cream business one day."

Even though she trained as a registered nurse and has worked for many years in the pharmaceutical field, Tonya said she realized the particular job she was doing at that time "was something I didn't want to do forever."

She started learning how to build the business.

"I knew ice cream, designed everything and had the truck built," she said, noting Eric drives the truck to Knox and Blount county locations almost every day of the week.

"It has just grown so much over the years that truthfully, we can't handle all the potential business."

Smiley Swirl "is not an ice cream truck," Tonya pointed out. "We are an ice cream shop and offer soft-serve ice cream and various toppings, along with shakes and sundaes.

For more information on franchising opportunities, e-mail info@franchiseinnovationgroup.com or call 865-320-0083. To book an event, call Eric Broils at 865-356-3388, e-mail events@smileswirl.com or visit www.smileyswirl.com.