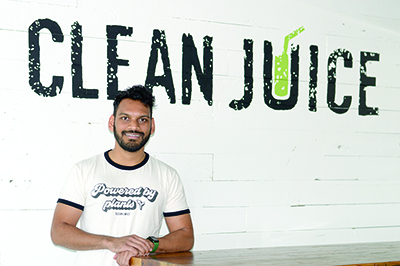 Vishaal Desai, along with friends Sagar Leva and Ameet Patel, have purchased the Farragut franchise for Clean Juice, 11670 Parkside Drive, near Publix in Turkey Creek.

"It's a product that I can believe in and support," Desai said. "You feel good about endorsing this."

Clean Juice, a 100-percent certified organic juice bar, carries fruit and vegetable juices and smoothies, as well as sandwiches, wraps, acai bowls, salads and sprouted grain, avocado and hard-boiled eggs, extra virgin olive oil and lemon juice and red pepper flake toasts.

Desai recalled a customer who had a medical procedure done, and her doctor had told her she needed to reduce the inflammation.

"We have a few products we sell, cleansers, that help your anti-inflamitory response," he said. "It was a great way for us to help out a member of the community."

Desai learned about Clean Juice while working in real estate in Georgia.

"I spent the past few years in Atlanta … there was a Clean Juice across the street from the neighborhood that I sold at, and I knew the owner because he was looking to buy a house from me," he said. "I just went one day (to the shop) to show support, and I really liked it, so I kept going back."

After a few years, Desai wanted to start a business of his own.

"A couple buddies and I started looking at different franchises," he said. "We really like healthy foods. We know there's a demand for it, it's good for your body and something we believe in.

"One day, I remembered there's Clean Juice," Desai added. "We started talking to the franchise. We stopped by here (in Farragut) and the previous owner was here.

"She was on the verge of selling, and one thing led to another — and all of a sudden we're under contract to come here and buy this store. It all happened in a matter of three weeks, which is great.

"I've really enjoyed coming here, getting to meet the team members, becoming part of the community," Desai said.

"That is something I want to do — get involved in the community, get together with some of the other local businesses and partner up with some fun marketing ideas," he added. "If there are events going on, we're trying to get into those."

Clean Juice is open from 7 a.m. to 8 p.m., Monday through Friday; from 8 a.m. to 8 p.m., Saturday; and from 9 a.m. to 6 p.m., Sunday.

For more information, call 865-671-5670.