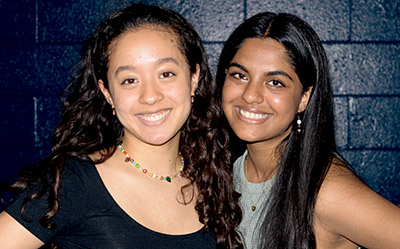 Having just graduated from Farragut High School Sunday, May 22, Amelia Fuentes and Vrinda Rana have used their career interests to create one-of-a-kind jewelry they sell on Etsy.

While they are friends, Fuentes and Rana each have separate businesses: Bold N' Simple for Rana and EcoJewelria for Fuentes.

"We both have different things in mind and what we want to achieve with them," Rana said.

"And also, the fact we are going to be pretty far away from college from each other," she added.

"We're going to be on opposite ends of the country," Fuentes said.

Still, "we're very supportive of each other," Rana said.

Rana makes rings, necklaces, earrings and phone accessories out of hypoallergenic gold and silverplated, either beaded or items with charms.

Looking into a future as a trauma surgeon, the daughter of Mita Barot-Rana and Axay Rana wants to work in an emergency room, but she also is looking at making medical jewelry, such as MEDIC bracelets, that distinguish a patient's conditions.

"That's something I may want to take on, possibly, in the future," she said.

In addition to selling on Etsy, Rana also sells at markets around the area, where she creates her pieces in-person. Her inspiration to create jewelry started when she was 7 years old, making little charms out of polymer clay.

"My sister and I were on vacation in Puerto Rico, and we were watching videos of people making jewelry," she recalled. "That just sparked the interest and joy, in general. Different mediums came from different videos I would see, or what other people were wearing."

As a teenager, "One of the charities that my family supports was lacking in donations and stuff, so mom thought it would be good idea for me to start something out that would help them," Rana recalled. "Ten percent of my profit goes to charity: (giving to) Aim for Seva … I was able to support two children with food, housing, education and basic living needs."

Additionally, "I just think it's a fun, little hobby that I'm able to share with other people." she said. "Just seeing other people's reactions when I'm making it or seeing the final product is rewarding."

Fuentes, daughter of Nina Qiu and Miguel Fuentes, started her business two years ago.

"I started in quarantine when COVID started getting really bad," she recalled. "I didn't really know what to do to keep myself busy and have a creative outlet."

Fuentes, whose career plans involve marine biology or another related science field, takes her ideas from nature, making pieces inspired by plants, fruits, flowers, animals and insects.

"They are also eco-friendly because that keeps up with the theme of nature in general," she said. The jewelry and packaging are made of 100 percent recyclable materials.

"I didn't start out doing (recycled materials) initially, but I did more research on landfills and issues with packaging and just being eco-friendly, and I switched over to eco-friendly alternatives," Fuentes added.

Looking ahead, she wants to use recycled plastics or plastics from the ocean to "turn it into regular plastic that can be used for jewelry."

With her venture, Fuentes has been able to fund some of her college expenses and invest more money into her business.