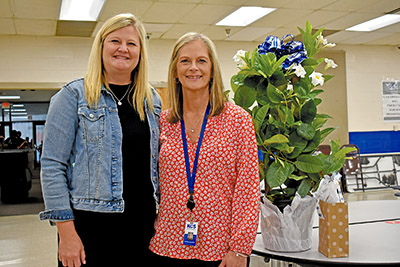 After serving Farragut Intermediate School for 15 years — the last four as principal — Deborah Adorante is retiring.

She announced her decision earlier this month in an e-mail to parents, and her last official day with Knox County Schools will be July 15.

"I have been very fortunate to have [had] a career I truly love," Adorante said, noting she began as a classroom teacher in 1980 and taught in a variety of settings, including private, Department

of Defense and public schools. "I

began my journey in Knox County Schools in 2000.

"I have been so blessed to have been able to serve the students, staff and families at FIS in several roles since 2007, (which have included)

curriculum facilitator and assistant principal," she added.

"It has been an honor to serve such a strong community that values education, and I am proud of the work we've accomplished at FIS. 

The school's students and staff "have persevered through a very challenging time with honor, courage, and steadfastness," Adorante said. "I will especially miss the students — I love being able to see their growth from third grade through fifth grade. It has truly been such a rewarding experience.  

"It has been an honor to serve such a strong community that values education," she added.  "I appreciate the support of our PTO, parents, and the Farragut community. … I believe we have the best students and staff in Knox County. I also appreciate the guidance and leadership of Knox County Schools and our superintendent, Bob Thomas, during my time as an administrator."

PTO president Stephanie Thompson led the organization in presenting Adorante with a flowering plant and other gifts following the school talent show May 12.

"Mrs. Adorante truly cared for each and every student at FIS," Thompson said. "Whenever we would plan activities, she always took every child into consideration. She is also a true friend and advocate for her staff.

"Our school is really going to miss her," she added.

Adorante said she is looking forward to spending time

with her husband of 38

years, John, "and taking some trips — particularly to the beach."   

"We will be spending time with our daughters, Lacy and Lindsey, and our extended family," she added.

Suzanne Parham, most recently an assistant principal at Karns Elementary School, has been appointed principal of FIS, and will officially join the staff in July.