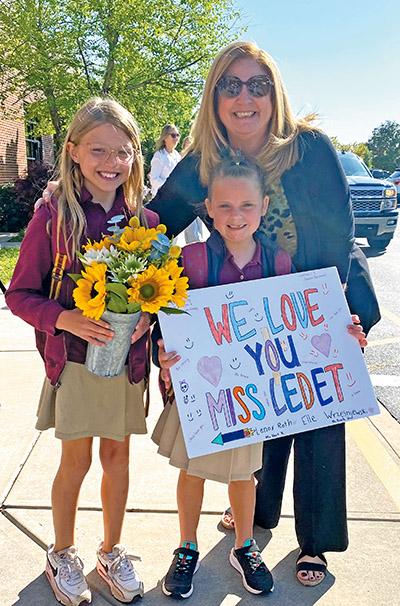 A Concord Christian School administrator described by staff, parents and students as "kind, loving, understanding and compassionate" is closing out her career this week.

Leigh Ledet, CCS's elementary school principal of 16 years, is retiring and will serve her last day Friday, May 27.

"It's definitely a bittersweet time for me," she said. "There is so much I will miss, but I am also looking forward to spending more time with my husband, Keith, traveling and helping care for our aging parents."

Ledet began her career teaching four years in public schools after graduating with an elementary education degree from the University of North Carolina at Greensboro — but Keith's job brought the young family to Knoxville in 1990. Leigh stayed at home with their children, Adam and Emily, who ultimately attended CCS, that drew her to the school "first as a parent, then as an employee.

"I was on an overnight field trip with the sixth-graders as a chaperone and the CCS teachers kept encouraging me to apply for a (second-grade) teaching position," Ledet recalled. "After much prayer, I interviewed and was offered the job. I loved teaching at CCS and was excited when I was asked to move into a leadership role after a year.

"I was incredibly impressed with the school's dedication to teaching the truth of Scripture to students," she added. "CCS is committed to training students to serve, lead and transform their world .... This is so exciting to me because we understand that we are playing a role in raising up the next generation.  

"CCS is also dedicated to doing our part to share the gospel with our students and community.  In the elementary school, we see approximately 25 students accept Christ as their personal Savior in the classroom each year.  We are then able to deliberately disciple them so they grow in their faith." 

In 2021-22, "We had our first elementary baptisms held during chapel," Ledet said. "This special time was definitely a highlight of my entire year.  

"CCS also has excellent academics .... seeing the progress my own children made as students at CCS convinced me that this was a school I wanted to serve at," she added.

Of the many things she will miss, she said, "I will miss greeting the students each morning as they enter the building," the retiring principal said. "I have always thought it was important to know each child by name, offer a hug and genuinely let them know how happy I am to see them.  

"There is nothing better than seeing a child get out of the car, spread their arms wide open and run toward you for a hug.  

"I will also miss the relationships and friendships I've developed with my faculty and staff," she added. "We love each other well, pray for one another, encourage each other and laugh and cry together."

According to a CCS press release, "Ledet has wholeheartedly served the CCS family. Her favorite moments have always been spending time in the classroom, reading to students, conducting experiments or bringing outside treasures from home.

"She has taken every opportunity to remind students of the special purpose God has for them," the release further stated. "She has never hesitated to jump in during the fun times — such as sleeping on the roof, being taped to the wall and dressing up for spirit week.

"Mrs. Ledet has not only been held in high esteem by parents, student, and faculty, but she was also recognized in 2018 as a Lexus leader in the community. Her staff describes her as supportive, dedicated, assessable, undemanding and adventurous."

In addition to traveling with Keith, her husband of 35 years — "our first planned trip is to visit the Northeastern states during leaf-changing season," she said — they plan to "enjoy boating, volunteer for ministry opportunities and catch up on home projects.

"Our daughter (Emily)  just celebrated her one-year wedding anniversary to her husband, Win Warren," Ledet added. "We don't have grandchildren yet, but we are certainly looking forward to the day that we do."

Jennifer Studt has been named the new CCS Elementary School principal.